What better season than spring to try your hand at some DIY backyard projects? The combination of warmer temperatures and increasingly longer days makes it the perfect time to get crafty. Plus, if you put these tasks in motion now, your backyard will be all set once summer hits.
These easy-to-do upgrades can help you get the most out of your outdoor space and make your backyard much more exciting to spend time in. From homemade pallet furniture to painted "rugs," here are some expert-recommended DIY projects that will quickly boost the appeal of your backyard.
1. Switch out mulch for decorative stone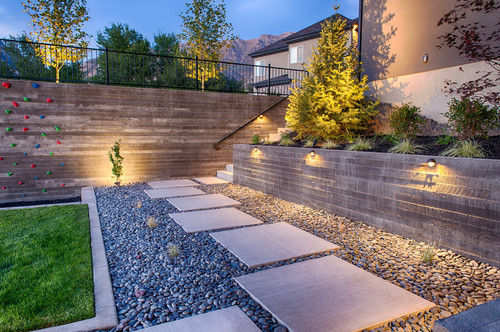 Photo by Decorative Landscaping
Elevate your backyard landscaping by switching out mulch or pine straw for decorative stones or river rocks.
Brian ClaytonCEO and co-founder of GreenPal, says stones not only look better but they're easier to clean as well.
"It's also a one-time investment, whereas mulch and pine straw have to be retouched every year," says Clayton. "So you actually make money on this landscaping enhancement."
2. Create your own outdoor bar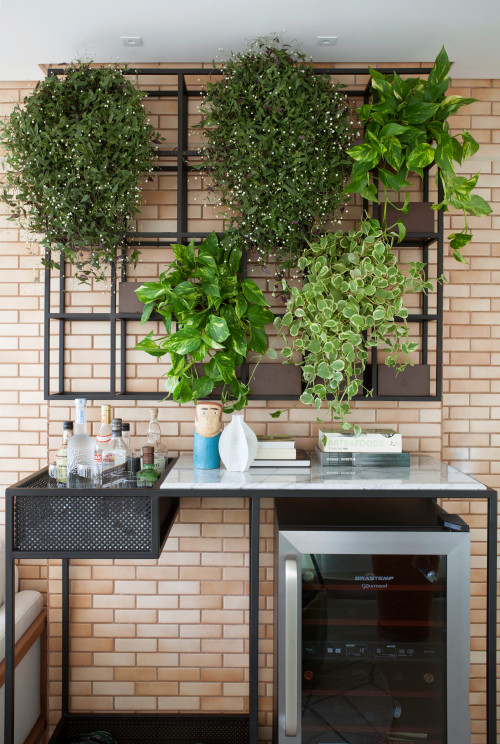 Photo by Ornare
If you want to make your backyard the place to hang out this summer, install a crafty outdoor bar.
Artem Kropovinsky, an interior designer and founder of Arsight in New York City, says you can build a bar with pallets, plywood, screws, and paint. You can also shop for inexpensive outdoor bars online or at your local home goods store.
Decorate your bar with string lights, signs, and plants for a personal touch. Be sure to keep it stocked with drinks, glasses, ice and snacks when friends come over.
3. DIY pallet furniture
If you have any leftover wooden pallets, you can easily transform them into design-forward backyard seating.
"Pallets are versatile and can be repurposed into outdoor furniture," explains Richard Callahan, owner of El Paso Artificial Grass & Turf in El Paso, TX. "You can easily design a couch or table."
To do so, Callahan says to first sand them down, give them a coat of paint, and assemble them to your desired size.
"Then add some outdoor cushions to complete," he says.
4. Create a small sanctuary
"Create a mini sanctuary by putting a chair or two with a small table in a corner of your yard or balcony," says Heather Evans, a master gardener based in Bristol, RI. "Surround them with native plants that attract butterflies and hummingbirds."
Evans shares that she's partial to Adirondack chairs.
"The untreated cedar ones age to a beautiful gray, but even the plastic ones are comfortable," says Evans.
5. Tire planters
"Creating planters out of car tires is one DIY project that never seems to go out of style," says André KazimierskiCEO of Improved Painters Madison in Madison, WI.
Kazimierski points out that tire planters are incredibly versatile—you can decorate them however you'd like—and are easy to assemble.
"It also prevents tires from ending up as waste, so it doubles as eco-friendly," says Kazimierski.
6. Paint the patio tiles
Want to give your backyard a quick refresh? Paint your patio tiles.
"All you need to do is mix floor paint with Valspar latex," says Mariya Snisar, the head of interior design at Renowell. "Of course, you will also need to clean the tiles first."
If you want the new paint job to last longer, Snisar recommends applying a primer layer before painting.
7. Paint an outdoor 'rug'
"Instead of replacing your cold outdoor rug with another one that will likely only last a few seasons, consider painting a faux rug directly on your deck or patio," says Beth Martinan interior designer based in Charleston, SC.
You can do this by purchasing paint and a paint stencil.
"This easy and budget-friendly weekend project will last for years," Martin says. "You'll also never have to wait for a soggy outdoor carpet to dry out after a storm."
8. Use lightweight planters for easy moving
Want to beautify your landscape without making more permanent changes? Two words: lightweight planters.
"When you choose lightweight planters, you can move them around to chase or avoid the sun," says Sarah Fishburne, director of trend and design at The Home Depot. "Container plantings also bring more attention to your backyard and whatever features you want to accent."
9. Create a game area
Bring game night outside by investing in patio furniture made for games like poker and chess.
"During spring and summer, outdoor games can help you add a little more entertainment to your backyard," says Fishburne.
10. Create a pea gravel patio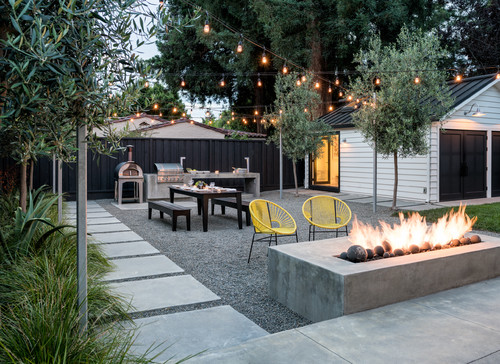 Photo by Randy Thueme Design Inc. – Landscape Architecture
Pea gravel patios are a fun (and affordable) way to spruce up your backyard using little effort.
"Not only is it a great way to add a new outdoor gathering spot, but it's also an easy project that even DIY beginners can handle," says Jake Eicher, the national sales representative at Portella. "With just a few materials, you can transform an unused corner of your backyard into a relaxing oasis."
11. Coordinate outdoor cushions with flower colors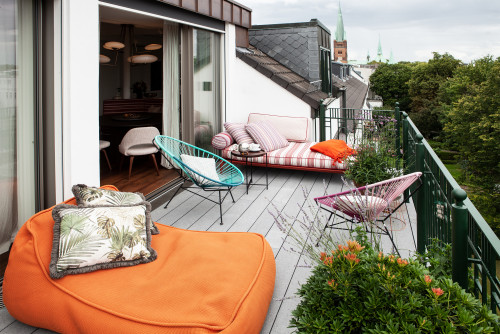 Photo by EMMA B. HOME
Pick up outdoor cushions that match your landscape if you're looking for an easy way to make your backyard look more put-together.
"Treat your backyard like a room in your home," says Fishburne. "Pick out a few pillows in shades coordinating with containers and flowers."
The best part: The weather-resistant fabrics hold up all season long.
12. Hang a hammock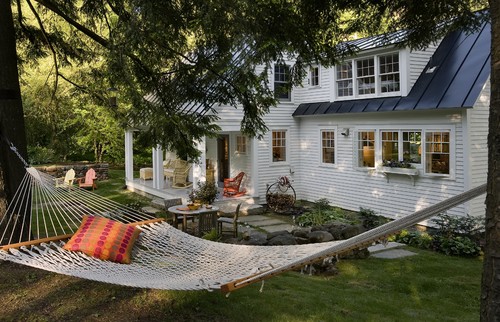 Photo by Smith & Vansant Architects PC
Set yourself up for a full summer of afternoon catnaps by hanging a hammock. After everything is installed, be sure to put some finishing touches on it.
"Add some pillows and blankets to make it cozy," Kropovinsky says.