I love braids, but sometimes they get boring. This stacked braids hairstyle is a lovely choice that makes them look just a bit different. It has a unique Bohemian style to the look, and you only need to know how to make a simple three-strand braid to create this long hairstyle look.
Stacked Braids Hairstyle
This hairstyle is one that is ideal for medium-length to long hair. You could do this with a shorter hairstyle, but it wouldn't work well with anything less than shoulder length. If you have shorter hair, you may want to check out these short hair hacks instead.
If a boring braid is something you don't want, then this stacked braid idea is perfect. You will basically separate your hair into three main sections, and braid each one simply. Then you get to combine those braids into one large stacked braid. The look takes ordinary and turns it extraordinary with no special tools or skills needed!
What Do I Need to Make Stacked Braids?
I love that this is one of those hairstyles you really just need a comb and hairband to make. For this braid, I like to use a final hair tie at the bottom with something special. A beaded tie or even a ribbon tied over the hairband can add a bit of something extra to the look.
Below are some ideas of things I keep on hand for doing braids and various hairstyles. While they aren't necessary, they do come in handy and are worth checking out to add to your hair care collection.
Similar Projects: How to Stretch Your Shoes Out to the Right Size with Ice
Other Items I Love: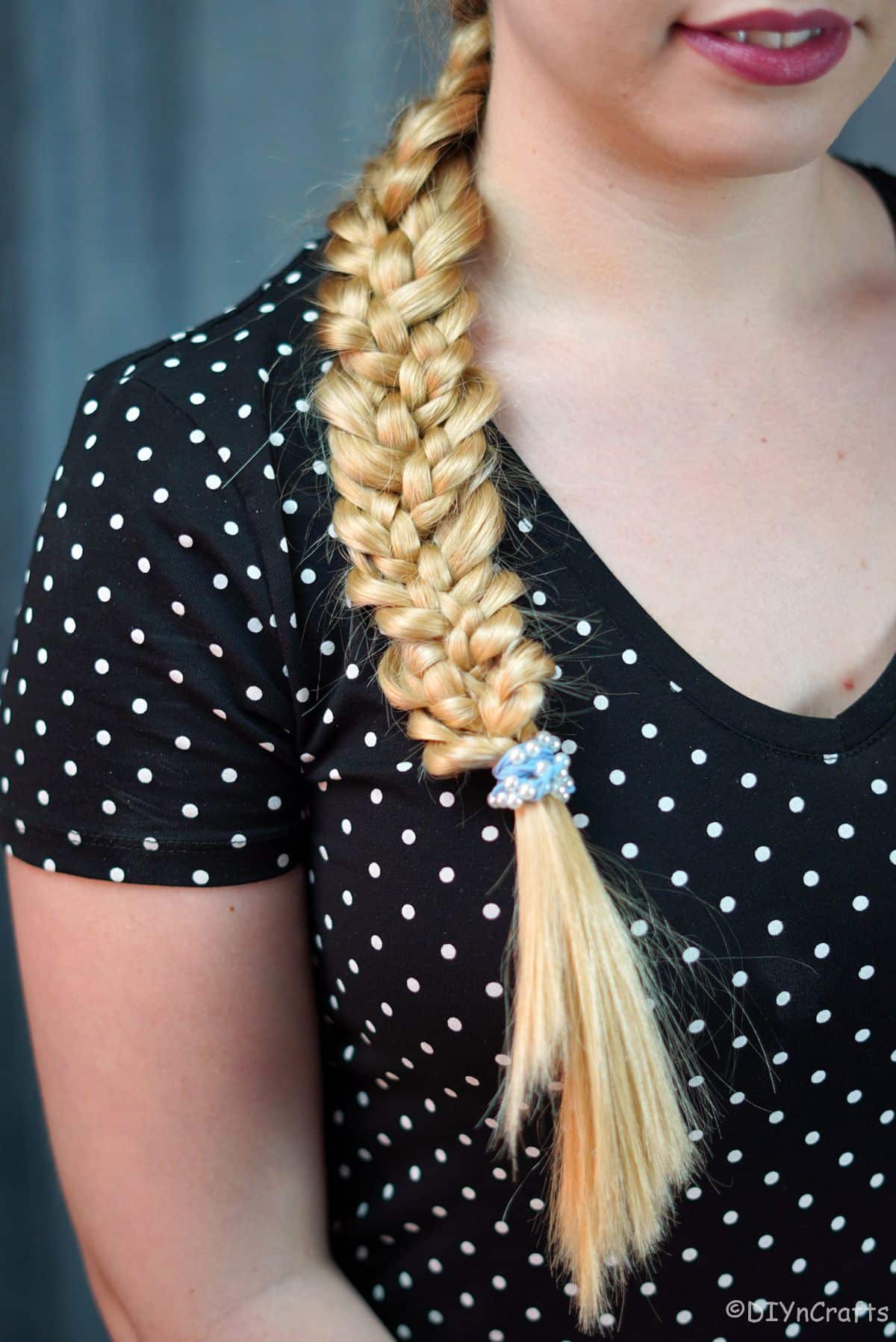 Bohemian Stacked Braids Tutorial
As with any hairstyle, you first begin by combing your hair and removing any tangles. If your hair is naturally curly, you will want at least a finger comb to make sure you have no tangles that will create issues like you braid the hair. Once it is free from tangles, you will start this simple stacked braids hairstyle.
Note: This hairstyle can work with both freshly cleaned hair as well as hair that hasn't been washed in 2 to 3 days.
Step 1
Once your hair is combed, you will divide it into three sections. Just above the ear on both sides, you will part the hair so you have a section of hair from the front of your head on both sides.
Then, when you pull these back to connect, you will not pull the hair on the back of your head. So, the hair will only be from the sides and not the top or back.
Once you have the two sides at the back of your head, you will then connect them together with a hairband. Do not pull in any of the hair from underneath, only tie the two side pieces together.
Step 2
Now, you will twist this hair by pulling the end of the hair over and under the hair tie. Do this 1 to 3 times, depending upon how tight you want the twists on the sides to be.
Step 3
Now, you will start the braids. Divide the hair into three sections. One section on each side, and then the middle back of the head and end of the twist you just made.
Begin with the middle, and braid it together with a traditional three-strand braid. Secure the end with a hair tie.
Then repeat this process with the sections on first one side and then the other.
Similar Projects: Get Your Tarnished Silver Sparkling Clean without Expensive Cleaners
When done, you will have three braids, one on each side and one in the center of the back of your head.
Step 4
Now, you will treat each of these braids as a section for a final, three-strand braid.
Pull the sides to the back and braid these to the end and then connect with a hair tie.
Step 5
Lastly, you can start at the top and work your way down the braid, pulling each section out just a bit to make it look a bit less structured and more Bohemian in style. When the braid is completed, you can spray with hairspray to set it in place if desired, but this is not necessary.
How Can I Make This Braid Look Unique?
One of the best things about this hairstyle is that it looks so great all by itself. It is quite simple, just a nice set of stacked braids. It's fancy enough for an event, but easy enough for you to throw your hair into a busy morning headed to work. Plus, this allows you to braid and then pull your hair down at a later time and have stunning curls throughout. Below are a few more ideas to make your braids extraordinary.
Tie a ribbon around the original two pieces at the back of your head. Then, braid these into the final braid, adding one to each of the outside braids as you stack the three together at the end.
Use a decorative barrette or bobby pin around the top of where you combine the braids together. You could also add one at your natural side if you prefer.
Use a decorative hair tie or ribbon at the end of the hair after you are finished braiding it.
Divide your hair into more sections, adding two on each side so you have a total of 5. Use this to create a fishtail-style stacked braid.
Add pins or clips throughout the braid that has rhinestones or flowers to give it a more complete Bohemian look.
More Easy Hairstyle Ideas
If you are like me and you need more ideas for using longer hair throughout the week, don't worry! I have some great ideas below that are easy to create and ideal for daily wear. A few changes can turn any of these braids from basic to fancy and ready to use for an event in a matter of minutes. Make sure that you bookmark these tutorials, print out the handy guide, or pin them to a hairstyle board on Pinterest so they are easy to find when you are ready to braid.
Similar Projects: How to Make a Warm, Cozy Afghan Cupcake Any Baby Will Love
Yields: 1
Turn a simple 3-strand braid into this lovely Bohemian-styled stacked braids hairstyle. Perfect for long hair and ideal for any day or event.
Active Time
30 minutes
Total Time
30 minutes
Difficulties
Easy
Notes
Adding pins with flowers or rhinestones throughout the braid turns it into an elegant wedding hairstyle.
Similar Projects: 10 Fun DIY Summer Hats That Will Keep You Cool And Fashionable
Recommended Products
As an Amazon Associate and member of other affiliate programs, I earn from qualifying purchases.
LilMents 12 Mixed Designs Satin Head Hair Handbag Handle Highlights Scarf Tie Lot (Solid Colors A)

Mehayi 20 PCS Macaron Pearl Acrylic Resin Metal Fashion Hair Clips Set, Handmade Cute Hair Barrettes Bobby Pins, Gold Metal Hairpin Hair Accessories Headwear Styling Tools, Gifts for Women Girls Decorative Wedding Party

8 Pcs Big Satin Hair Bows for Women Girls, 8 Inch Large Bow Hair Clip Barrette Hair Ribbon Bows French Style Hair Accessories

Crave Naturals Glide Thru Detangling Brush for Adults & Kids Hair – Detangler Hairbrush for Natural, Curly, Straight, Wet or Dry Hair (TURQUOISE)

Youxuan 1000-Pack Elastic Hair Ties Non-slip Rubber Hair Bands for Girls, Clear

The Honest Company Conditioning Hair Detangler | Leave-in Conditioner + Fortifying Spray | Tear-free, Cruelty-Free, Hypoallergenic | Sweet Orange Vanilla Everyday Gentle, 4 fl oz