There are many factors to consider when choosing curtains for the home, from color, material, length, and heading type to name just a few, but if you're wondering how to make your chosen curtains look more expensive, then we have the answers. for you.
Of course, curtains are vital for light-blocking and insulation, but they have got to look good, too. The right curtain ideas should beautifully complement and enhance your design scheme, whether that be through color, pattern, or texture, as well as elegantly frame your windows.
From pretty pelmets to getting the curtain length right (yes, it really is that simple), taking your curtains to the next level and making them look more expensive doesn't have to cost the earth.
How do you make curtains look expensive?
Picking the right curtains for a room can make all the difference in an interior design – nothing bugs interior designers more than hanging curtains awkwardly.
Giving time and thought to your window treatment ideas will only make your overall scheme look and feel more luxurious and high-end, so read on to explore the six simple tips worth knowing when making curtains look more expensive at home.
1. Decorative detailing
'Decorative trims add such great detail to draperies, giving them a custom look. I do however like to keep the headers of drapery simpler than a lot of extra detail. It can sometimes feel too traditional and formal or take over the look of the curtains,' says California-based interior designer, Jen Dallas (opens in new tab).
Lavish window valances, fringes and frills are often associated with country curtain ideas, so are a great option to consider for curtains in a more traditional, period setting, but that doesn't mean they cannot be used for modern curtain ideas, too.
Emma Clarke, director at Warner House (opens in new tab) says, 'add character with headings and thanks. At Warner House, we love the pinch pleat heading: triple pinch for a heritage look, double pinch for a sleeker finish. Add a luxurious brush fringe or smart animal print tape to the leading edge for a polished effect.'
Jen Dallas (opens in new tab) is a California based interior designer, whose studio has its very own line of textiles tiles, rugs and lighting.
Emma Clarke is a director at Warner House (opens in new tab), a family-run British business that has been producing fabrics and silks for the last two centuries. The White House and the Royal Family have been named as some of Warner House's most notable clients.
2. The right curtain hardware
Cathrine Dal from Cat Dal interiors (opens in new tab), a London-based interior design firm, advises, 'use a curtain rod with rings. You can't beat a classic black finish – either in a standard pole with finials or a French style. A simple black pole always looks classic and elegant, and it's hard to tell the difference between an expensive vs non.'
Jen Dallas supports this and also says, 'drapery hardware makes a big difference in adding detail to draperies that average store-bought draperies can't provide. I prefer a rod with rings. Adding rings to your top drapery adds such a custom look to a basic drapery panel.'
(opens in new tab)
Liliya Adjustable Single Curtain Rod
This adjustable curtain rod from Wayfair comes in a variety of metal and colored finishes and is available in 3 different sizes.
(opens in new tab)
Simple Curtain Rod – Dark Bronze
Boasting a simple, streamlined design, this curtain rod from West Elm comes in a goes-with-anything dark bronze finish and is available in 4 different sizes.
(opens in new tab)
Matte Black Curtain Rings – Set of 9
These black drapery rings can subtly elevate the look of any curtains, and they also come in 3 other metal and colored finishes.
Copenhagen-born, Cathrine Dal, is the founder of London-based interior design studio, Cat Dal Interiors (opens in new tab)which has a design ethos rooted in Scandinavian design.
3. Choose the perfect curtain length
It is safe to say, many of us have probably made the odd mistake when it comes to measuring for curtains – explore how to measure for curtains so you learn how to do it successfully once and for all, but getting the length perfect can make all the difference when making curtains look more expensive.
Cathrine Dal says, 'pay attention to the length – curtains should go to the floor; either one or two millimeters above, just touching or puddled. A puddled effect is far better than being 'too short' so always opt for the longer length when in doubt,' – for further insight explore, should curtains touch the floor (opens in new tab)?
Many designers also advise hanging curtains higher and wider than the window for a sense of height and grandeur, as Emma Clarke says, 'hang curtains above the window frame for extra height and to showcase a fabulous sweeping design.'
4. Create a beautiful, bespoke design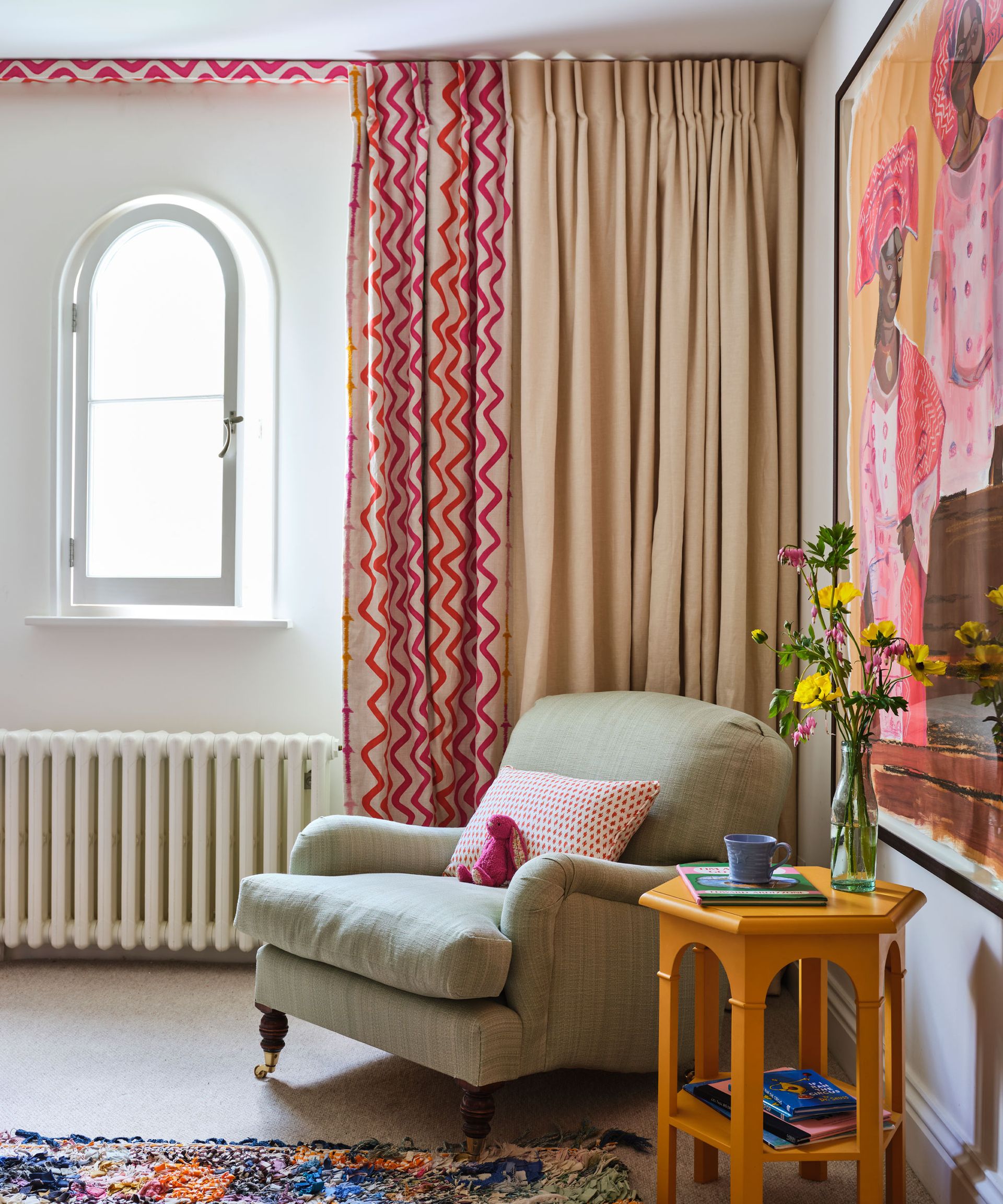 Choosing beautiful, bespoke curtains will not only allow you to tailor your curtain design to the exact needs of your scheme, but you can often further enhance this use of material and print by choosing for matching cushions and upholstery too.
'If you're going to speak for your curtains, then chances are, they will already look expensive. Of course, if the budget allows, a bespoke curtain will naturally look luxurious as you can select the heading type, lining and interlining, and main fabric.
However, if you are able to do bespoke curtains but can't afford the desired fabric, consider creating a border or paneled effect using an expensive fabric paired with a solid fabric at a lower price point,' says Cathrine Dal.
For the final finishing touch to your bespoke design, interior designer, Rachel Usher (opens in new tab) advises, 'creating drapery allows you to add small details which elevate their presence, a small piped edge for example will help to tie your scheme together and give your window treatments a more bespoke look.'
Multi award-winning interior designer, Rachel Usher (opens in new tab) founded her design practice in 2012. With a strong design presence both in the UK and Los Angeles, Usher takes on projects on both sides of the Atlantic.
5. Consider your curtain material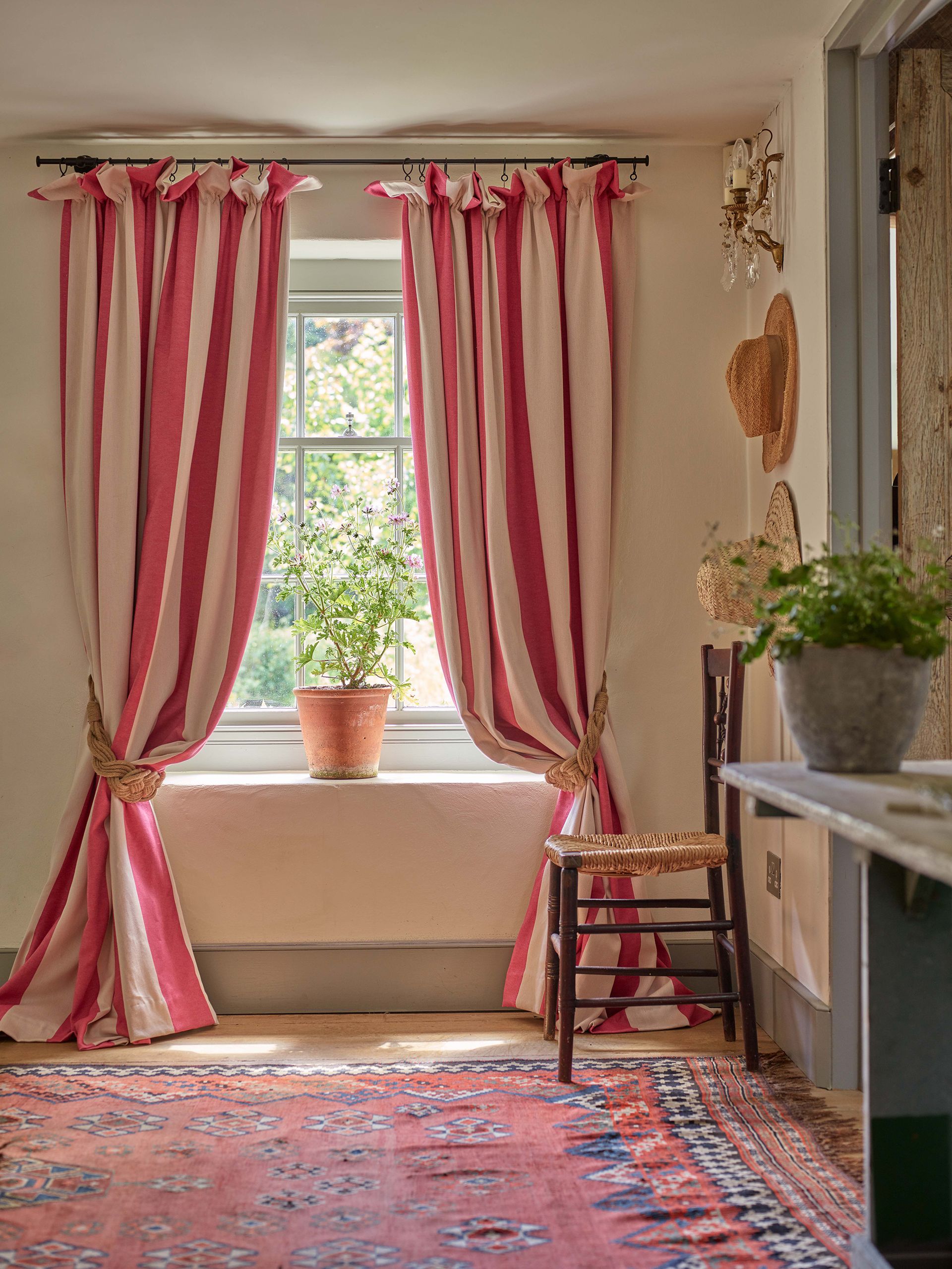 Emma Clarke says, 'almost any fabric can be used as a curtain provided it has a beautiful drape. Best quality curtain lining and interlining materials give a luxurious finish, enhancing the beauty of the fabric and accentuating shape and fullness.'
'Opt for natural fibers. Finding a good synthetics or blend fabric off the shelf can be difficult, whereas a nice cotton or linen fabric is far more accessible and looks more authentic says 'Cathrine Dal.
A good quality curtain material will not only stand the test of time, but will also look more luxurious too. With many of us making more sustainable design decisions in our homes and creating spaces filled with more renewable and natural materials, such as linen will work wonderfully.
Heavier, thicker materials, such as velvet – ideal for living room drape ideas, can also be a great option to consider, perfect for creating a more traditional and opulent look.
6. Enhance your curtains with a pretty pelmet
Similar to a valance – see our exploration of valances vs pelmets vs swags vs cornices for a full breakdown of the differences, a pretty pelmet can beautifully frame a pair of curtains.
Pelmets were originally designed to conceal the curtain fixtures, establishing a more crisp and clean look, but they are also a great opportunity to add eye-catching decorative detail to the window treatment.
As shown on this beautiful, cozy nook bed, part of a Homes & Gardens photo shoot, inspired by the Bloomsbury Set and the Arts & Crafts movement, the patterned curtains have been paired with a colorful, painted pelmet, working with the other textures, patterns and colors in the room to create a luxurious, layered design rich with character and details.
FAQs
Should curtains be darker or lighter than walls?
When it comes to curtains being darker or lighter than walls, traditionally the rule of thumb is: opt for lighter curtains if you have dark walls, and darker curtains if you have light walls – remember, contrast is key. Choosing a curtain color that is either one shade lighter or one shade darker than your wall color is also a preferred option; making for a terrific, tonal look.
However, if you choose not to abide by these rules, it doesn't mean you can't have a successful design, it all depends on your chosen style, and the effect you want to create in a space. Whether you want to establish a sense of cohesion or contrast, curtains will always prove to be a clever decorating tool.
For further insight and expert guidance, explore, should curtains be lighter or darker than walls.
What are the curtain mistakes to avoid?
Some of the top curtain mistakes to avoid include:
Choosing the wrong curtain length
Not considering curtains for privacy – sheers are not always the most practical option!
Hanging the curtain rod in the wrong place
Budget hardware that cannot stand the test of time
Creased curtains – if the chosen material allows, always iron before hanging
---
Embracing just one of these simple tips can transform the look of your curtains – but don't let us stop you from trying out all six!
Whether you make a few quick hardware or lining tweaks to your existing curtains or opt for a bespoke fabric that matches other soft furnishings in a new space, making your curtains look and feel more luxurious will only help to make your overall scheme appear more sophisticated and well-thought through.