Looking for a way to get some curls in your hair? This easy beach waves tutorial uses a scarf and the results are beautiful every time. This isn't a tight curl, but a loose wave that is ideal for any hair length. You'll love the results and how easy this is to do with just a few things you already have on hand.
Beach Waves Using a Scarf
I've seen tons of tutorials for making your hair look wavy or curly. There are many ways to create a simple but new look with straight hair. While you may want to have curls, you probably don't every day. In this way you can have those waves in your hair without turning into a curling wand or hot rollers for the style.
Want to turn those beach waves into a unique style? Check out all of these ways to use bobby pins. There are some amazing ideas on this list that will no doubt give you even more options for taking these waves and creating a whole other look.
What All Do I Need to Make Beach Waves in My Hair?
This tutorial is so easy and only needs a few things you already have on hand. Of course, you will want a brush or comb for detangling, a good-quality ponytail holder, and a long scarf or piece of fabric. Along with this, I recommend a mousse, gel, or hair-setting spray to help hold the curls. A blow dryer helps a bit too to set the curls, but it isn't necessary.
Similar Projects: Stunning Braided Updo Style – Princess Braid Updo Hairstyle Video Tutorial
Along with these items, below are some of my personal favorite hair care tools and products. Check them out and use the ones that work best for you to create great new styles.
Other Items I Love:
Beach Waves Tutorial
There's nothing like a few waves to make your hair look just a bit different. This method is super easy and ideal for any hair length or type. It works best when you can leave the hair up overnight or for at least a few hours, but you can still create waves with a scarf in under 30 minutes with this process.
Step 1
Comb your hair back into a high ponytail and secure it with a ponytail holder.
Next, you will spray the hair with a setting spray, hair spray, or your favorite mousse or gel. Make sure all of the hair in the ponytail is well coated with this. Smooth any fly away across the top.
Step 2
Now you will tie the scarf or fabric around the ponytail over the elastic hairband. Just loop this around, it doesn't need to have a knot or a bow. Lay the ends over the top and face the front of your head.
Step 3
The next step is to divide your ponytail hair into two equal sections. You will be twisting these around the two sides of the scarf, so simply divide the length of the ponytail in half.
Similar Projects: Top 16 Most Creative DIY Halloween Hairstyles
Note: If you want smaller/tighter curls, wrap a second scarf around your ponytail to give you 4 strips to twist the hair around instead of just the two as shown.
Step 4
Twist your hair around the scarf, twisting the hair itself before you wrap it around each time. Wrap this around to the end of your hair, or as close as you can, so that the entire length can be curled.
Secure at the end with a small hair tie or ponytail holder.
Repeat this process on the opposite side so that you have two rope braids with the scarf.
Step 5
Now, wrap the twisted sections around the ponytail into a "bun", then tuck the ends under it.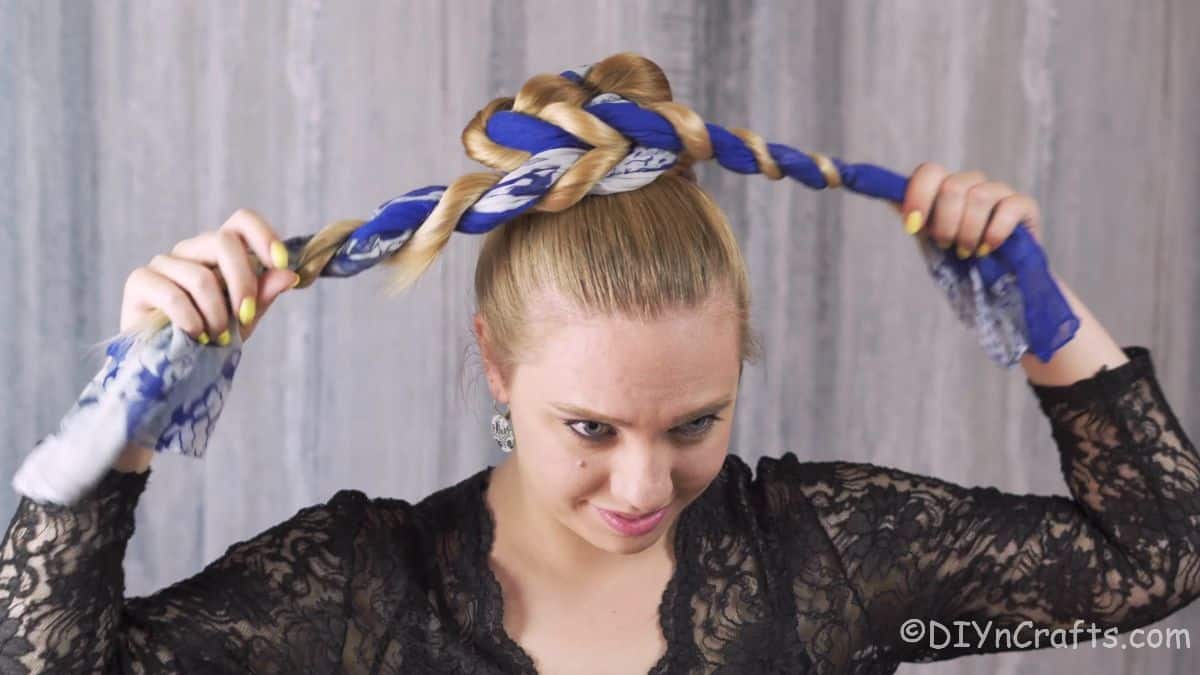 Secure with bobby pins or clips if needed.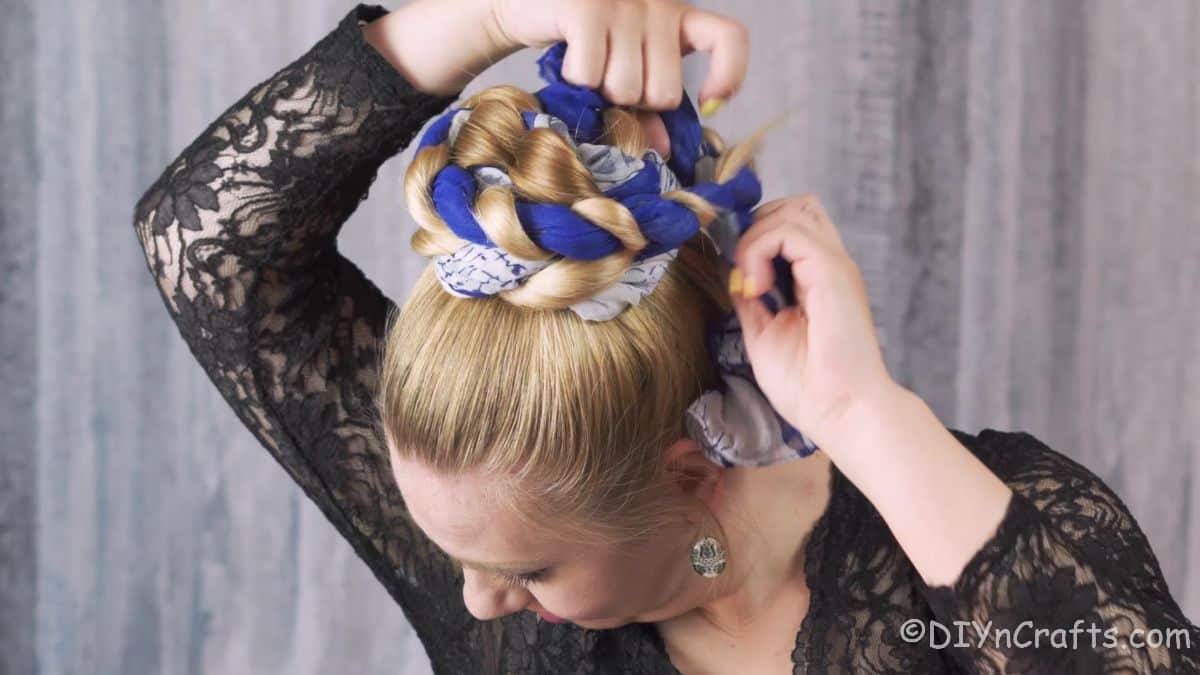 Step 6
Now you can use a blow dryer to heat the buns/curls for 5-10 minutes to help set the curls. Alternatively, you can leave them up for 3 hours or overnight.
Unwrap the hair and finger comb when ready then style as you prefer.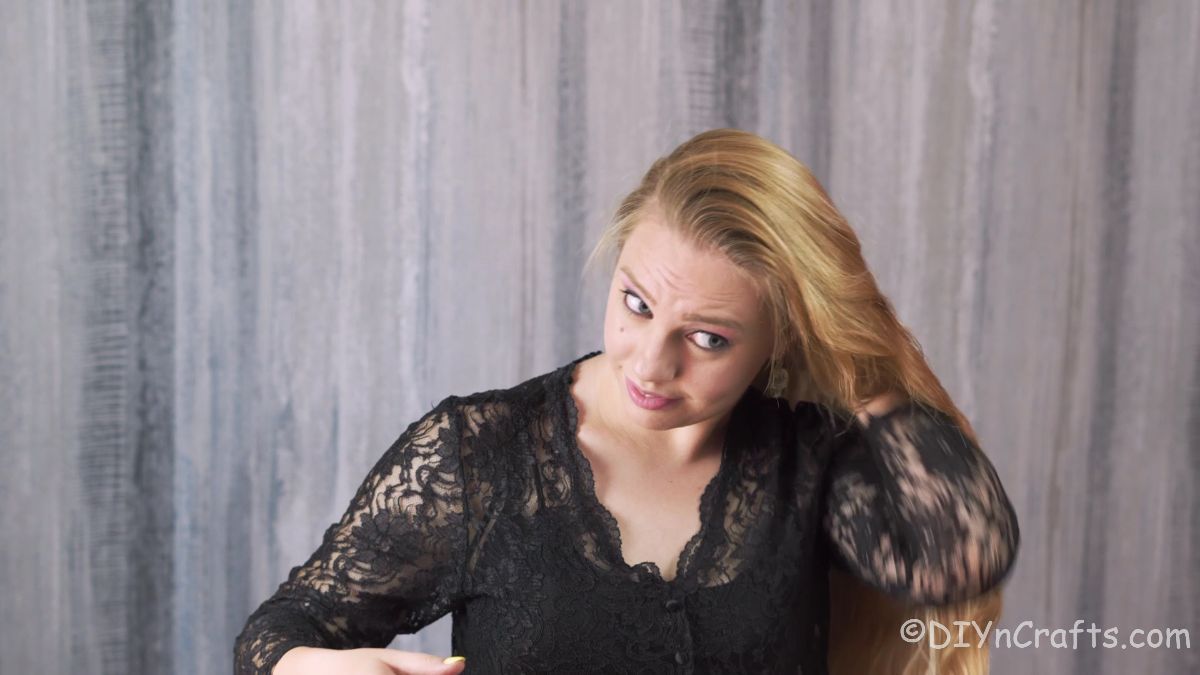 How Do I Make Sure The Waves Last All Day?
The hardest thing about curling your hair when you have naturally straight hair is that the curls often "fall out" way too soon. This method is all about waves, and not tight curls, so it works better for those who have a hard time getting curls to last. But, below are some tips for making your beach waves stay all day long.
Start the process with wet hair and use our gel mousse. Make sure to let the hair dry completely, overnight, or for several hours.
Spray your hair with hairspray as soon as you remove the scarf and have waves.
Don't touch your hair much/often after the waves are down. The more you fuss with it, the more you will see the waves falling out.
Wait as long as possible to take your hair down so it has more time to hold that shape and create the curl.
More Easy Hairstyle Tutorials
I love it when I can take my straight hair and curl it or put it up for a special night out. Below are some more great ways to add style to your hair. Check out the ones you like and add them to your routine. Make sure you bookmark the hairstyles, print out the tutorials with images, or pin them to a hairstyle board on Pinterest.
Similar Projects: 23 Insanely Clever Arm Knitting Projects and Techniques
Make easy beach waves with a scarf for a simple update to normally straight hair! These beautiful loose waves look great every day!
Prep Time
15 minutes
Active Time
15 minutes
Additional Time
1 hour
Total Time
1 hour 30 minutes
Difficulties
easy
Notes
Leave your hair wrapped in the scarf overnight for tighter curls.
Similar Projects: Elegant Braided Bun Using Hair Donut
Recommended Products
As an Amazon Associate and member of other affiliate programs, I earn from qualifying purchases.