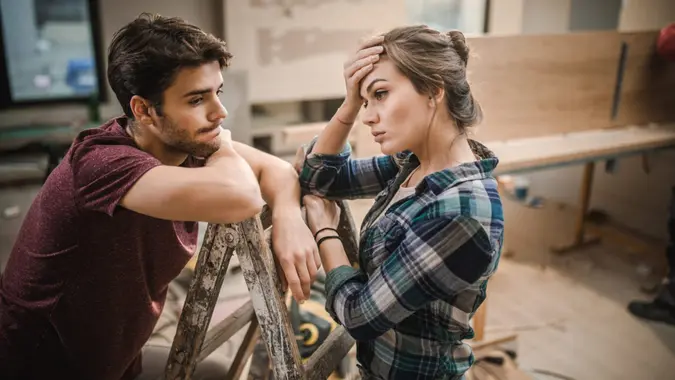 skynesher / Getty Images
See Our Best Picks
During the COVID-19 pandemic, countless people looked around their homes and contemplated the upgrades or improvements that they should make. But few companies were fully operational during the height of the virus, meaning that these renovations had to wait. Fast forward to last year, and eager homeowners were ready to take the plunge on their projects.
I'm a Real Estate Agent: Here Are 8 Renovations Buyers Want the Most in 2023
Find Out: How To Build Your Savings From Scratch
Unfortunately, the pandemic did more than just make us want to revamp our homestead; it also brought record-high inflation, labor shortages and supply chain issues — a perfect storm in the construction industry. The cost of home improvements has skyrocketed, but undeterred or unaware of the price increase, many homeowners have charged forward with their much-awaited projects.
According to our research, an astonishing 88% of people renovated their homes last year. Almost 8% of those surveyed reported spending over $10,000 on home improvements. While many spent considerably less (over 33% spent $2,000 or under), nearly 30% forked over between $4,001 and $10,000 on these projects. We asked a homeowner to share their major regrets over a renovation that cost more due to inflation. Here's what we found.
Pricey Bathroom Remodel
Michael P. Griffin, associate teaching professor of accounting and finance at the University of Massachusetts Dartmouth's Charlton College of Business, CPA, CMA, ChFC, CFM, recently remodeled a bathroom in his home. He explained that the renovation "involved replacing fixtures, tiles, tub conversion to shower, and upgrading the overall design."
"We wanted to create a more luxurious and functional bathroom space. Two years ago, when we initially considered the renovation, we received estimates from contractors and suppliers that seemed reasonable at that time," he continued.
Check Out: 5 Expensive Renovations Homeowners Always Regret
Inflated Costs
Unfortunately, once they decided to start the project, the prices were significantly higher. He said, "However, when we finally decided to proceed with the project, we were surprised by the inflated costs of materials and services provided by subcontractors. The prices had skyrocketed due to the impact of inflation, particularly in the construction industry."
"The cost of bathroom fixtures, tiles, and even basic plumbing and electrical components has significantly increased. Additionally, the rates charged by plumbers, electricians, and tile masons have risen substantially since we last received estimates," he added.
40% Increase in Cost
As many would suspect, inflation caused the project's cost to be much higher than expected — much like the daily items Americans regularly buy.
"The total amount we ended up spending on the bathroom renovation was much higher than we initially anticipated – by about 40%," he noted. "It felt like every step of the project came with unexpected expenses, causing our budget to spiral out of control. The inflated prices of materials and subcontractor services were major contributors to the increased cost."
Biggest Regret — Not Starting Sooner
Griffin learned a lot from the experience, which others can take and use for themselves to make sure they stay on budget.
"Looking back, one of our biggest regrets was not starting the renovation work before the onset of the pandemic," he said.
"The pandemic and subsequent supply chain disruptions led to shortages of construction materials and increased demand for contractors, which further drove up prices. If we had initiated the project earlier, we might have been able to avoid the worst effects of inflation and secure better deals on materials and labor," he said.
Although it's hard to plan for something like a pandemic, it may not be worth holding off on a project when prices seem fair.
Get More Than One Estimate
He also recommended obtaining multiple estimates.
"Another regret we have is relying solely on the estimate provided by one contractor from two years ago. At the time, his estimate seemed reasonable. However, it turned out that the contractor went bankrupt (after taking our deposit) before we could start the renovation, leaving us stranded. This forced us to find a new contractor, resulting in additional delays and expenses," he cautioned.
"In hindsight, we should have been more proactive in monitoring the cost trends and inflationary pressures in the construction industry. And I will never again give a contractor a deposit or any type of advance. Overall, we are happy with the end result, but it costs significantly more than expected," he said.
More From GOBankingRates