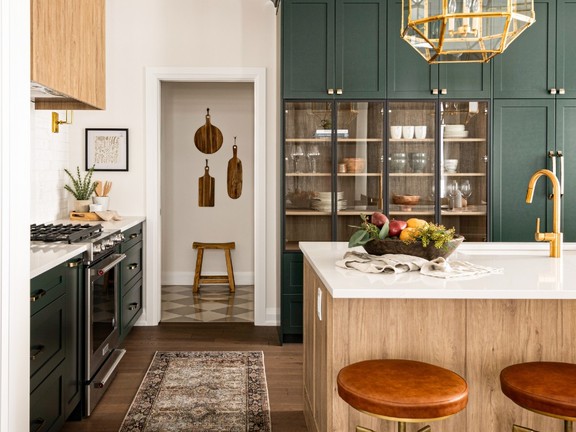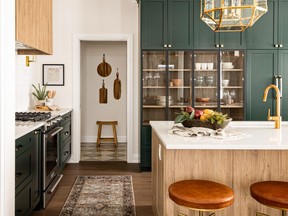 Reviews and recommendations are unbiased and products are independently selected. Postmedia may earn an affiliate commission from purchases made through links on this page.
Article content
Just off Trim Road south of Innes is a trio of model homes that display an impressive continuity — despite being built and styled three years apart.
Article content
Such is the staying power of the interiors by the international award-winning firm West of Main that the first home built in 2020 — and a multi-award winner itself — is just as fresh as the two new ones that opened in March.
A lot of that is due to West of Main's "relaxed elegance" style.
"It's a lot of cohesiveness and the use of those little design details and including the old and the new" to keep the look timeless, says lead designer Josée Sigouin. "It's something that we're really good at, mixing styles so that it's not so focused on only farmhouses, only mid-century. It's mixing both modern and antique or vintage elements, which is seen throughout our portfolio and that is consistent throughout. The house, and also the colors used, are very muted and organic and natural."
Article content
The three homes represent a range of two-storey single-family home options from builder eQ Homes at its Provence development in Orléans.
There's "a unique experience for each house," says Tobin Kardish, eQ's director of marketing and product development, "unique but cohesive, almost like a family of homes… Each of them speaks to a family, but a different type of family at a different stage of their life, wanting different things from their house."
The original of the three is the Oliver, a 2,822-square-foot, four-bedroom home on a 42-foot lot. It's done in a refined farmhouse style that's meant to fit in Ottawa and what we have here, including winter, with "elements that are more refined or modern so that it's not overly ornate farmhouse," says West of Main co-owner Sascha Lafleur.
Article content
The home — which boasts several striking features from multiple vaulted, shiplapped ceilings and a stunning deep green kitchen to an elegant and soaring foyer and a refreshing main-floor layout that efficiently places the kitchen in the middle of the home — has won awards ranging from the local Housing Design Awards and SAM Awards to the national Canadian Home Builders' Association Awards for Housing Excellence.
The Oliver — all of eQ's more recent floor plans are named after children of the staff; Oliver is Kardish's son — is aimed at a family looking to move up to a bigger single, with the flexibility of either an office or playroom off the kitchen that has the option to turn it into a main-floor in-law suite with a full ensuite.
Article content
"A lot of our homes have the option for a variety of very thoughtfully designed flex spaces," he says. "The idea is that just because we've originally drawn the house one way, there's a lot of options that have been drawn to suit diverse lifestyles and different preferences."
The basement of the Oliver has also been completed to show the potential of that extra 1,000 square feet of living space.
"The basement is just awesome for kids," says Lafleur, whose good friend just bought an Oliver.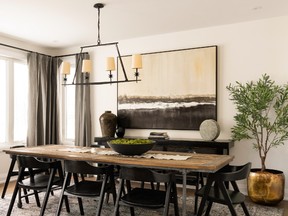 The newer models are smaller but still pack a punch. The 2,242-square-foot Piper I is a four-bedroom on a 35-foot lot inspired by mid-century modern design. It features a deep and high-ceilinged foyer that ends in an equally deep and high-ceilinged home office with dark walls and styled to show how the whole family can work in one space. It's also separated from the rest of the main floor to both keep personal space private from any work visitors and to provide a quiet space away from the noise of daily family life.
Article content
"I think that's one of the reasons it really resonates with today's buyers," says Kardish. "And it's a great amount of house for the size."
West of Main wanted it to be more modern, opting for "clean lines, very minimal details, simple silhouettes in the lighting but using that warmth in the walnut (of the kitchen cabinets) and that office at the front, doing it very moody with the dark charcoal color on all of the walls," says Sigouin.
The home includes unexpected touches such as the asymmetrical single pendant above the kitchen island, glass partitions in the wood-framed staircase railing, fun lemur wallpaper in one of the kids' rooms and colorful tiles in the primary ensuite.
"People often go neutral and there's nothing wrong with neutral, but if you are a fan of doing more color in your home, then (this is an example of) showing different ideas of how you can balance this," says Lafleur, who feels the Piper feels like a "like a big hug… I just like the warmth of it."
Article content
The smallest of the models is the three-bedroom Quentin, a 1,920-square-foot home on a 31-foot lot. Meant to show a move-up option for a family looking to switch from a townhome to a single, the Quentin features an elegant, classic style updated with clean lines.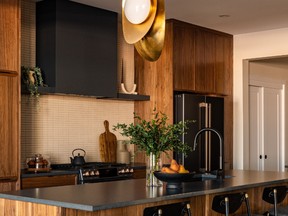 "Bringing in those classic design elements that people would recognize or remember from eras that have been consistent and not so trendy over the years were important for us to bring into this home," said Sigouin.
In place of more typical island pendants, West of Main opted for flush-mount lighting to show a different way of doing things, says Lafleur.
"Some people, when they want to be able to watch the TV (from the kitchen), they don't want anything to impede their view, so here's a version where it's flush mounts but something still with some detail to it. And the kitchen stands on its own to not necessarily need that jewelry is coming down."
Article content
Darker cabinets offset with an extended butcher-block-topped island anchor the space, with an elaborate yet airy chandelier dropping from an 18-foot ceiling down to the dining table to add extra pop. More subtly, the fireplace surround has been done in a lime wash in the same color as the adjoining walls to add texture that is best seen at certain times of the day when the natural light reflects on it.
"There's nothing overtly loud, it's very effortless, sophisticated, comfortable," says Lafleur.
All the homes are furnished through West of Main, which also offers services to help homebuyers choose their design center finishes.
Provence is a 97-acre development that will eventually see about 750 homes, including about 160 upscale apartment rentals. About 250 homes have been sold so far.
For details and to tour the models, visit eqhomes.ca.