With often four-figure prices and hefty delivery fees, buying a bed frame can almost seem as much of a commitment as choosing a bed mate. Choose wisely and you'll be set up for a lifetime of sweet dreams. Pick in haste and you may not sleep so well.
Today's market offers an ever-growing variety of options—headboard or none, lushly upholstered or sensible wood, statement maker or minimalist vibe. To save you from this particular mental shopping fatigue, we turned to interior design pros from across the country. These designers pick beds for projects every day, and here they reveal the ones they love most from firsthand or client experiences that you can buy yourself—without the help of a decorator.Note: All bed frames are Queen size unless otherwise specified.
Uber-minimalist platform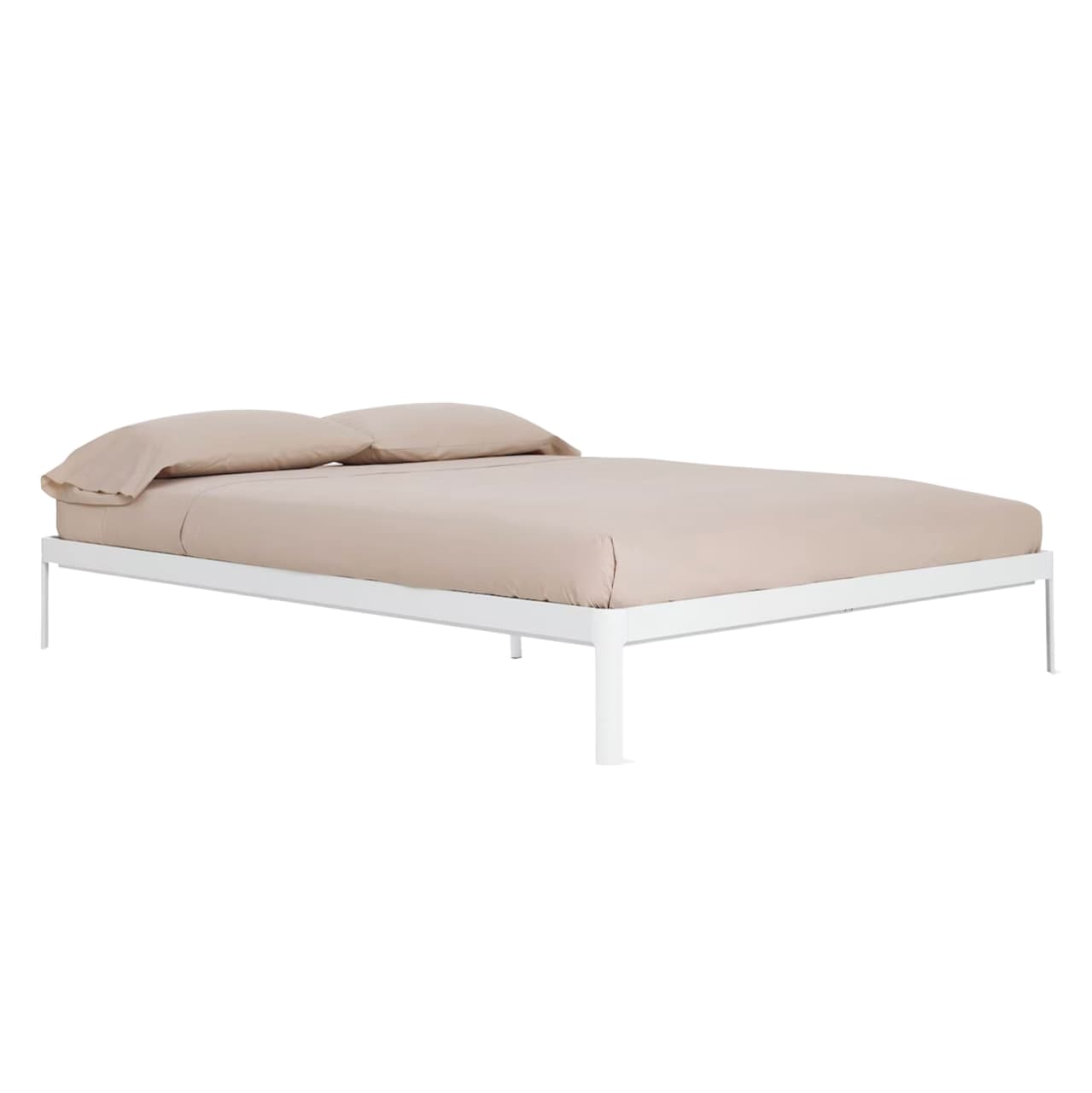 Luciano Bertoncini
Min Bed
This is the most minimalist of bed frames, which may be why, as the company's notes, the Italian-made frames has been a bestseller for 20 years. "I've always loved the simplicity of the Min Bed," says architect Yaiza Armbruster, founder of Atelier Armbruster in New York City, who has used the bed in many projects. Hidden hardware and curved legs elevate the simple design while preventing snags and protecting shins. One thing to note: Armbuster says he is not a fan of the optional headboards and customer reviews tend to agree.
---
Eastern-inspired slabs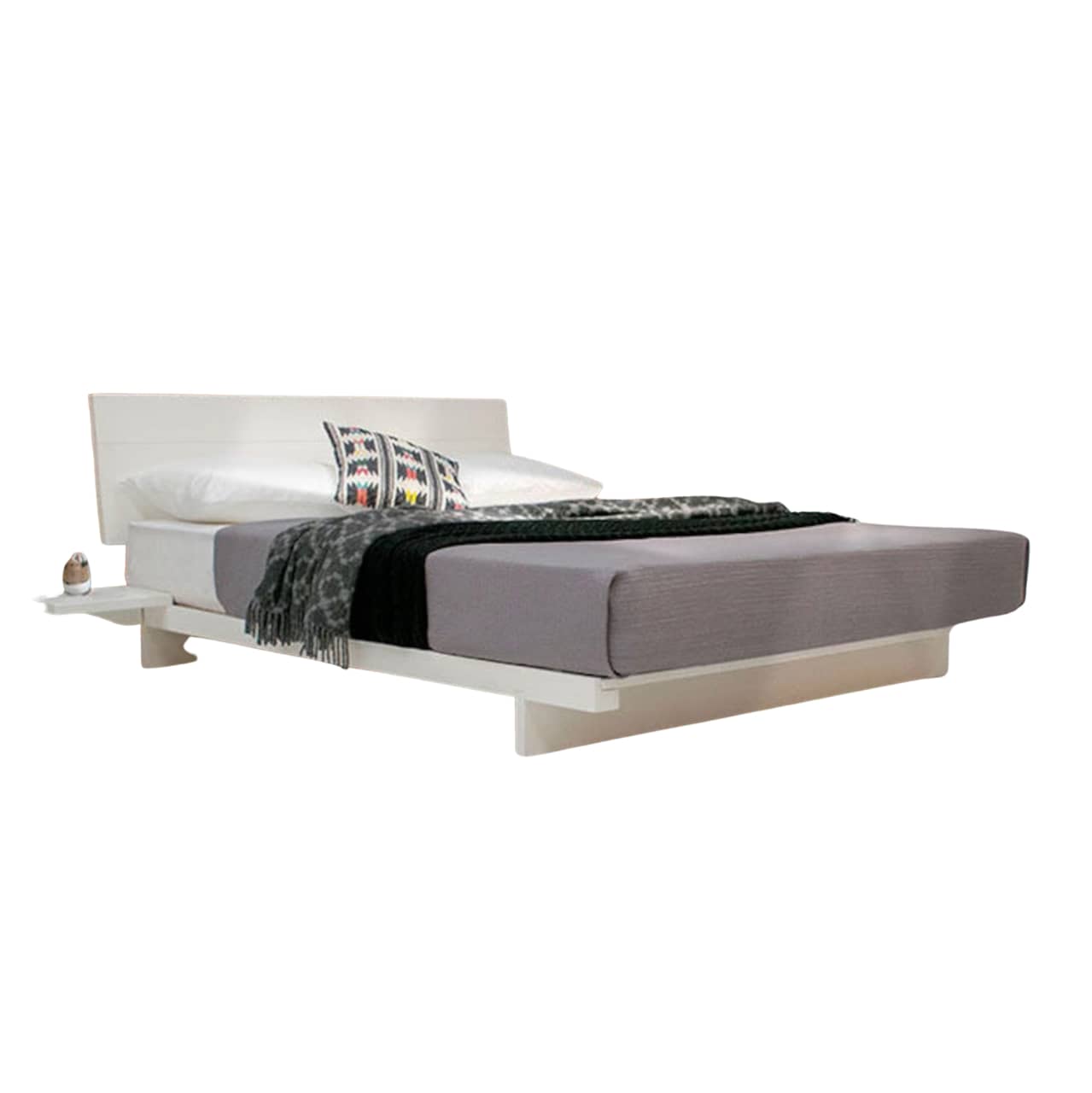 Getlaidbeds
Low Fuji Attic Platform Bed
Almost as elemental as a tatami mat, this is the bed Alex Kalita, founder of Common Bond Design in Brooklyn chooses when she wants "a low, wooden bed frame with Eastern influences." Plus, Kalita notes, "I am a sucker for an integrated bedside table, and the Fuji provides you with the option to add on cantilevered side tables." However, with its low-slung design, Kalita does not recommend this bed "for bodies over 6 feet or 60 years."
---
Mid-century original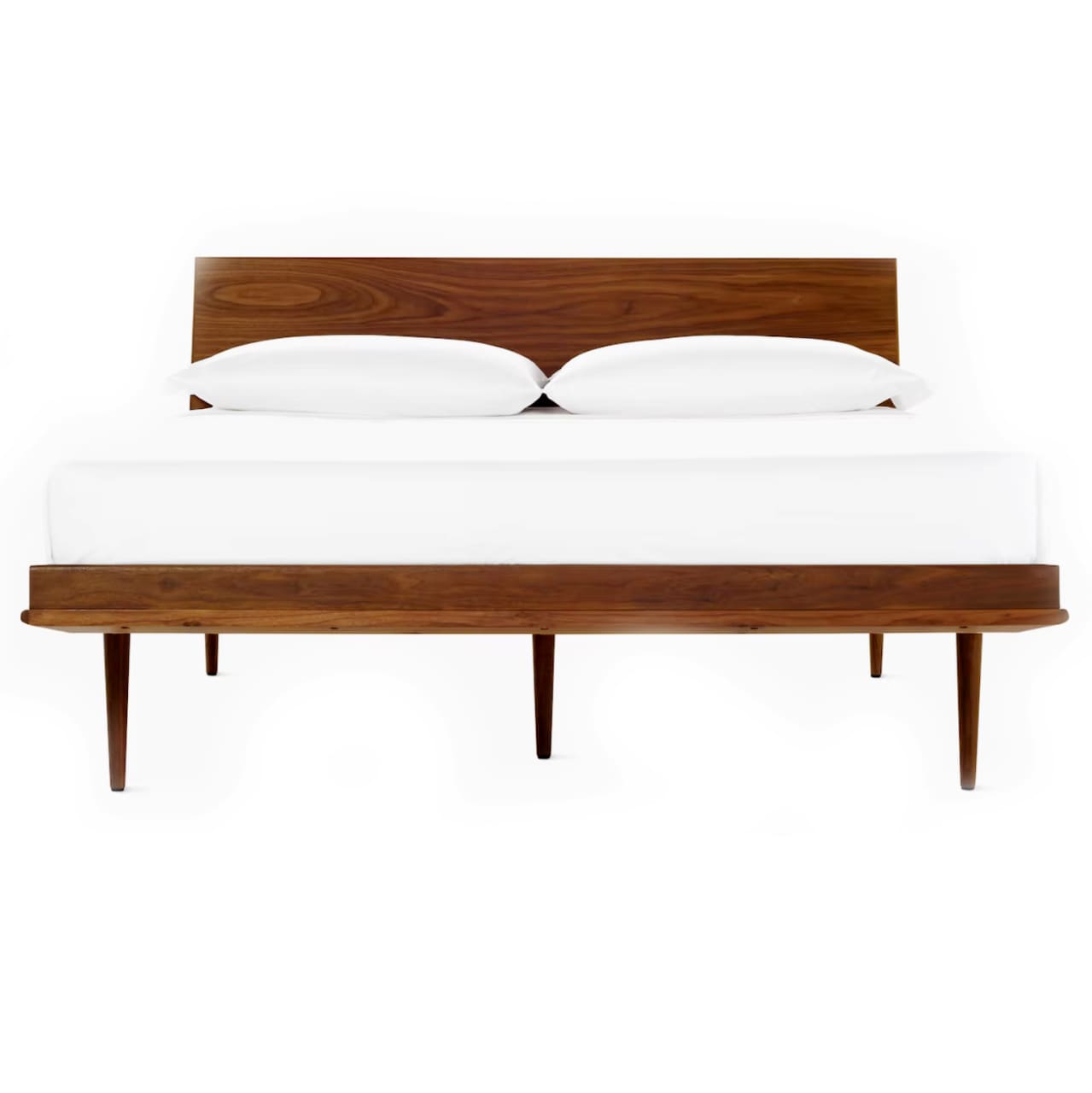 George Nelson
Nelson Thin Edge Bed
Originally designed by George Nelson in 1954, Herman Miller has brought this bed back from its archives in a full range of modern sizes. "Nelson was the father of modernism, and this bed exemplifies his designs' staying power," says Jessica Hansen, founder and lead designer at Tandem Design in Portland, Ore. Plus, Hansen notes, this piece easily adapts to "growing tastes" and marries well with many aesthetics. Kalita appreciates the customization options for wood, legs and headboard. "It feels like a different bed every time we specify it," she says. Kalita recently ordered this bed for her parents, noting that "it delivers the effect of a low-slung modern bed, but the mattress height is still accessible enough to be comfortable."
---
Updated spindles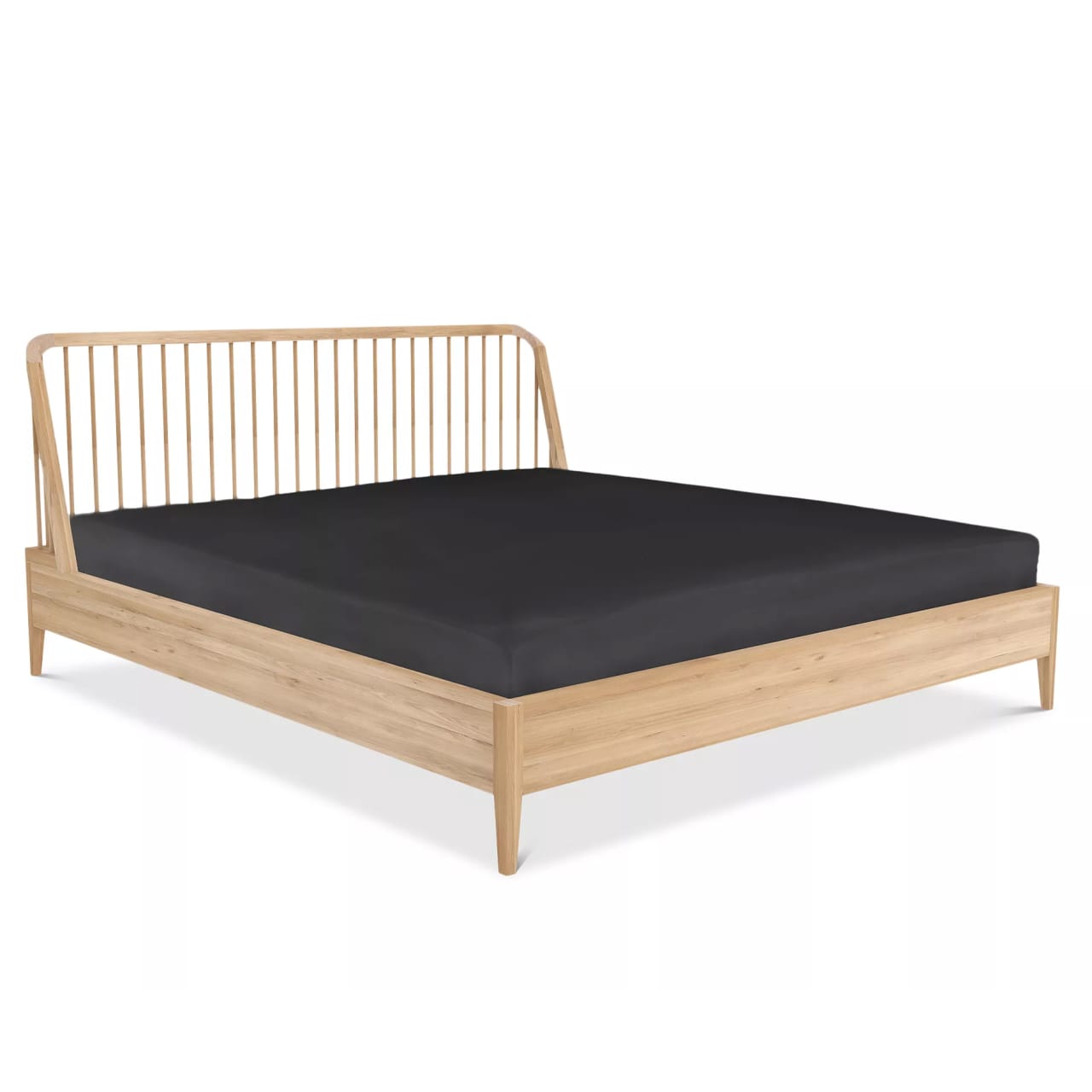 This streamlined spindle bed is a "modern classic," says interior designer Vanessa Helmick, the owner of Fiore Home in Yarmouth, Maine. "It's great for small spaces because it has a lower headboard and one of the smallest footprints I have found for a bed frame," she says. Helmick notes that the Scandinavian-inspired design mixes well with both straight and curved lines that might be in a room.
---
Time-tested design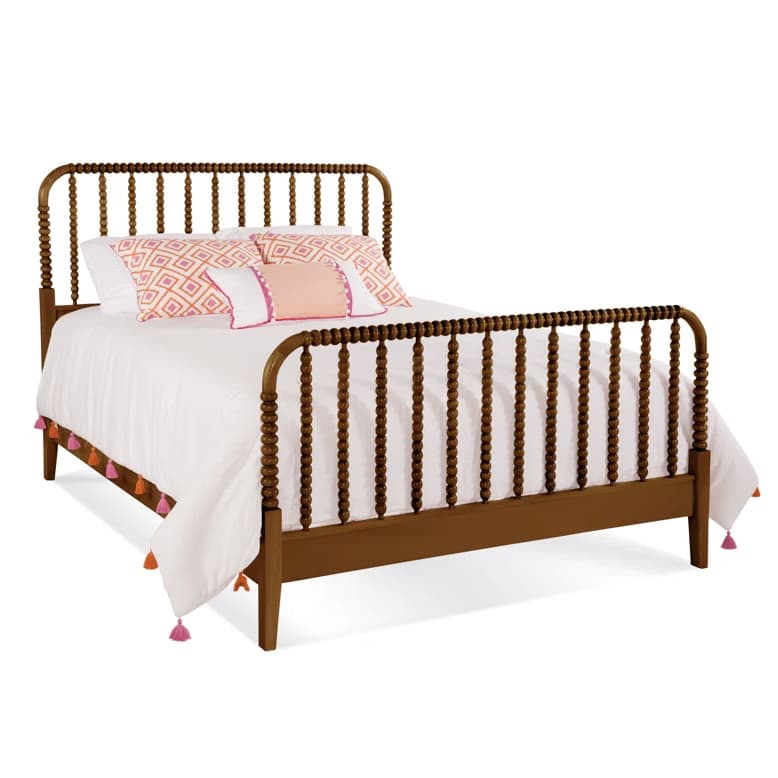 Braxton Culler
Lind Island Solid Wood Beds
"With its nostalgic design and approachable price point, a Jenny Lind piece is an ideal choice for a child's room," says Dallas-based interior designer Lisa Henderson. Henderson also likes that this spool style is also available in crib and toddler sizes, allowing her to make a matching pair with a twin bed for her siblings. Beyond kids' rooms, this style is also a good option for someone who wants a historic look. US Peter Dolkas, co-founder of Brooklyn's Studio Dorionnotes: Vintage King-size beds are extremely difficult to find, so a reproduction is sometimes a must (he's a fan of Great Windsor Chairs' reproduction Shaker-style beds).
---
Subtly tropical pick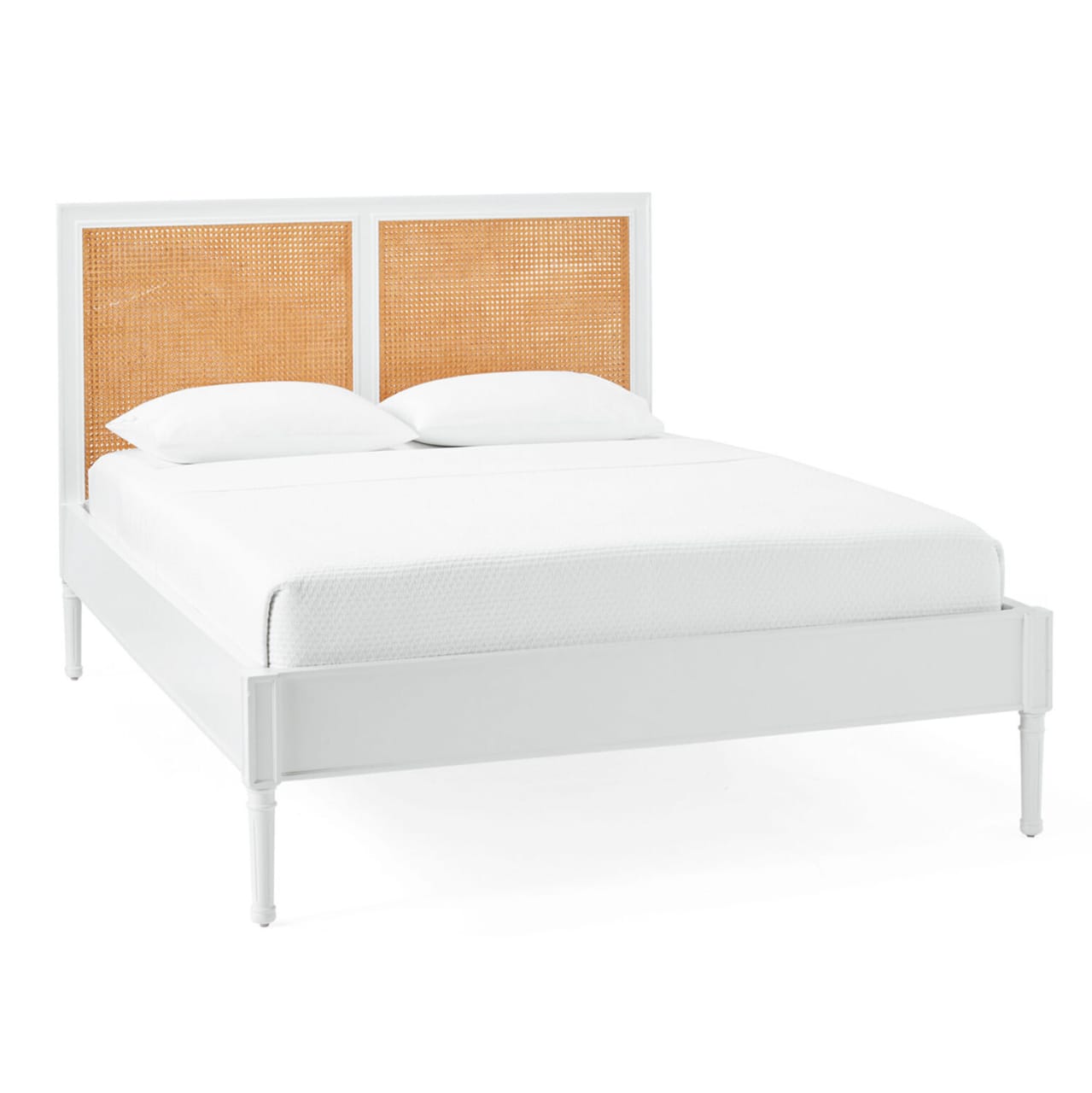 Serena & Lily
Harbor Cane Bed
Use code SPRING for 20% off.
"This is a bed frame whose style can fit into almost any home," says interior designer Emily Painter. That said, the Florida-based designer notes she has used the Harbor Cane Bed most often when decorating homes in the tropics "because of its stylish cane headboard." Painter adds that you can easily dress it up or down, so that it feels at home in both a child's room or a primary suite.
---
Unfussy upholstered bed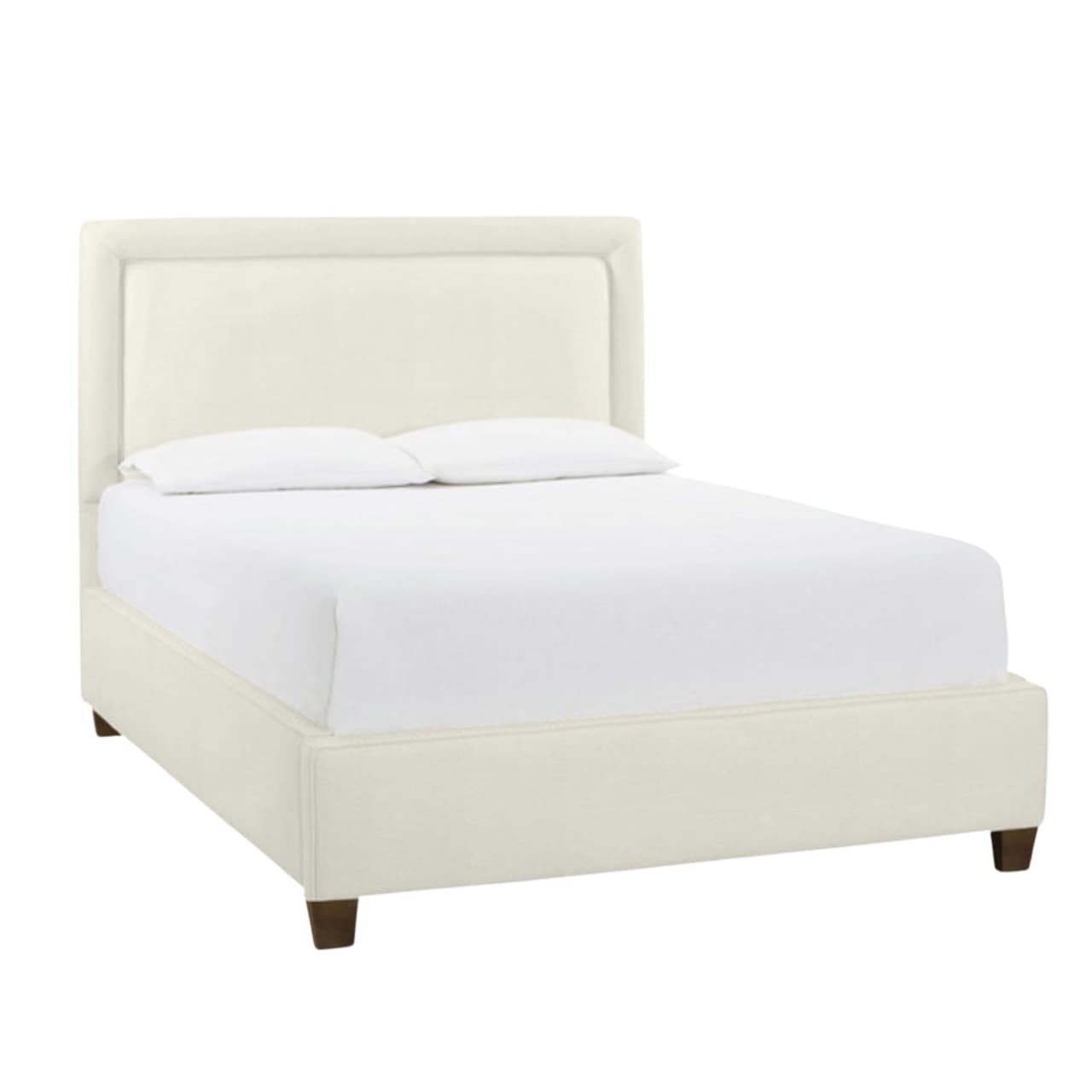 Ballard Designs
Giselle Untufted Bed
While looking for a bed frame for her own home, New Jersey interior designer Sarah Storms wanted something with clean, timeless lines and the ability to be customized: The Giselle Untufted Bed fit the bill. "The headboard was tall enough to make a statement, but also quiet enough not to overwhelm," says Storms. "There are a ton of fabric options to choose from or you can supply your own fabrics—it's truly a 'designer' experience available at retail." Another plus: The headboard piece extends to the base so there's no gap behind the mattress.
---
Wow rattan frames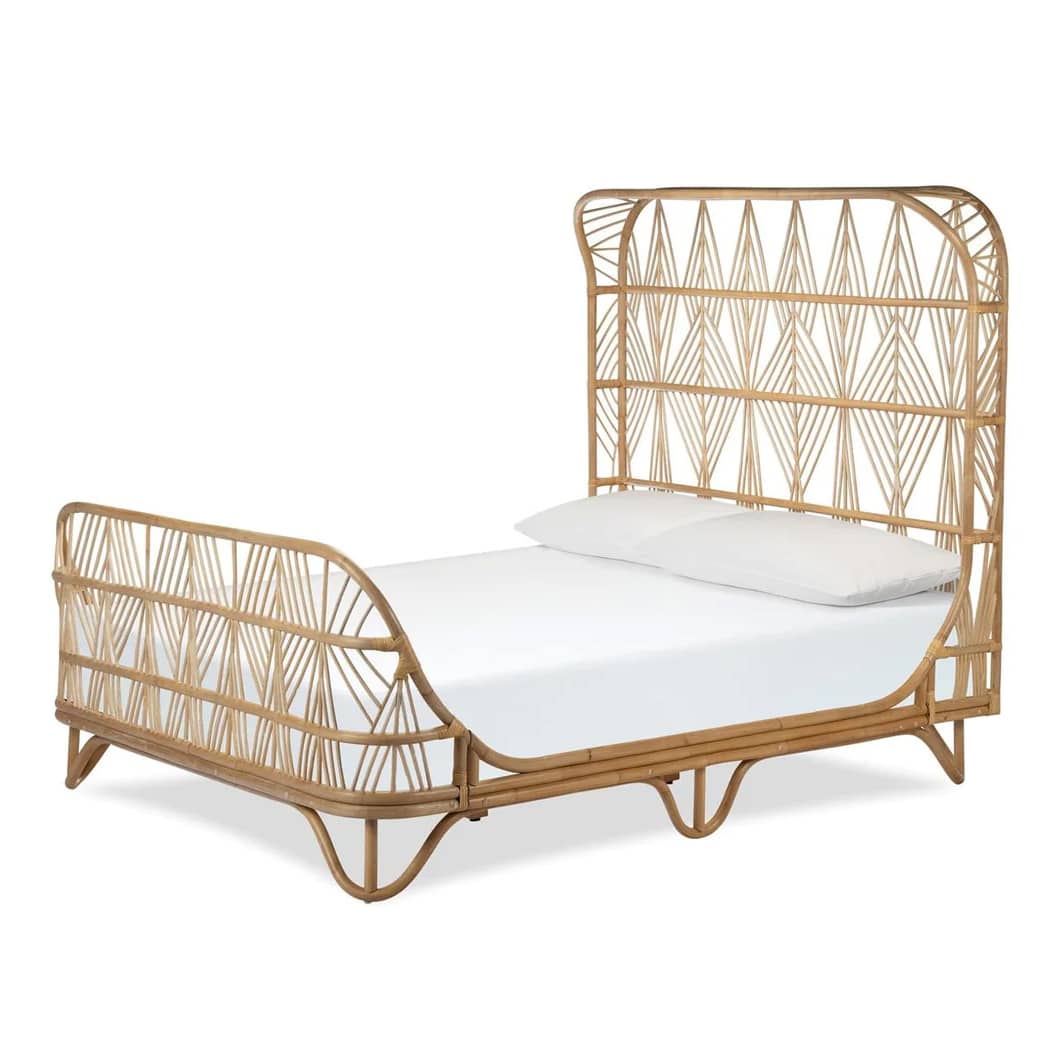 Edloe Finch
Yara Rattan Bed
A rattan style bed can be a fun decor choice, says interior designer Robin Henry, whose design studio has offices in Westport, Conn., and New York City. She used a similar style bed frame in a project on Harbor Island in the Bahamas, and says a frame that makes a statement can be great for a smaller room "where there isn't a lot going on."
---
Of-the-moment wave design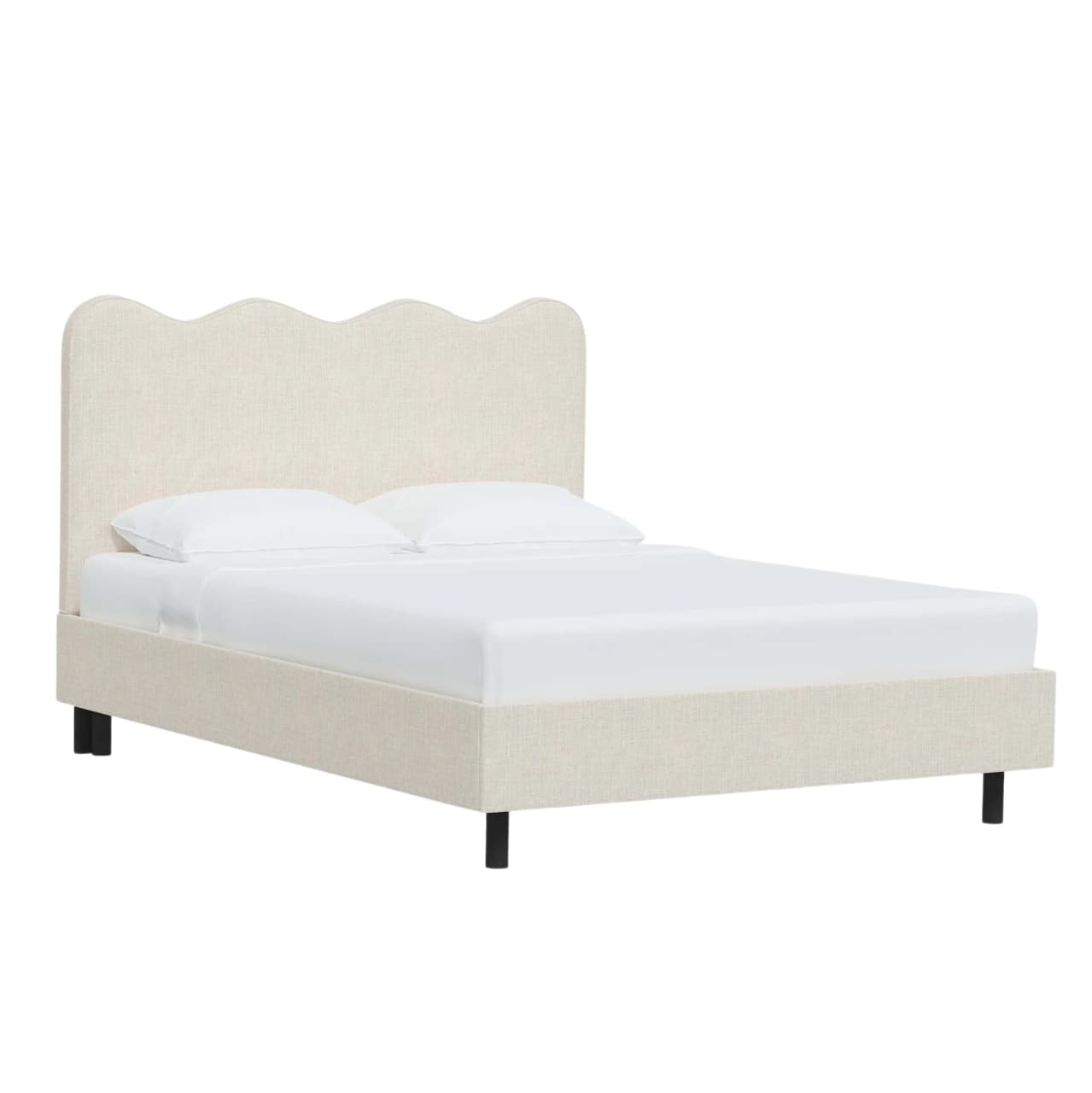 Lulu & Georgia
Clementine Platform Bed
Armbruster cited this bed as a great option for a child or teen's room. "It's the right mix of cost and design," she says. "Not too expensive, but so beautiful." It appeals to grown-ups too: Charleston-based home stylist Maja Edwards used it for her primary bedroom in the bouclé upholstery in ocher. Edwards likes that the headboard "speaks for itself, so it eliminates the need to find an art piece to go above the bed."
---
Cushy-but-cool velvet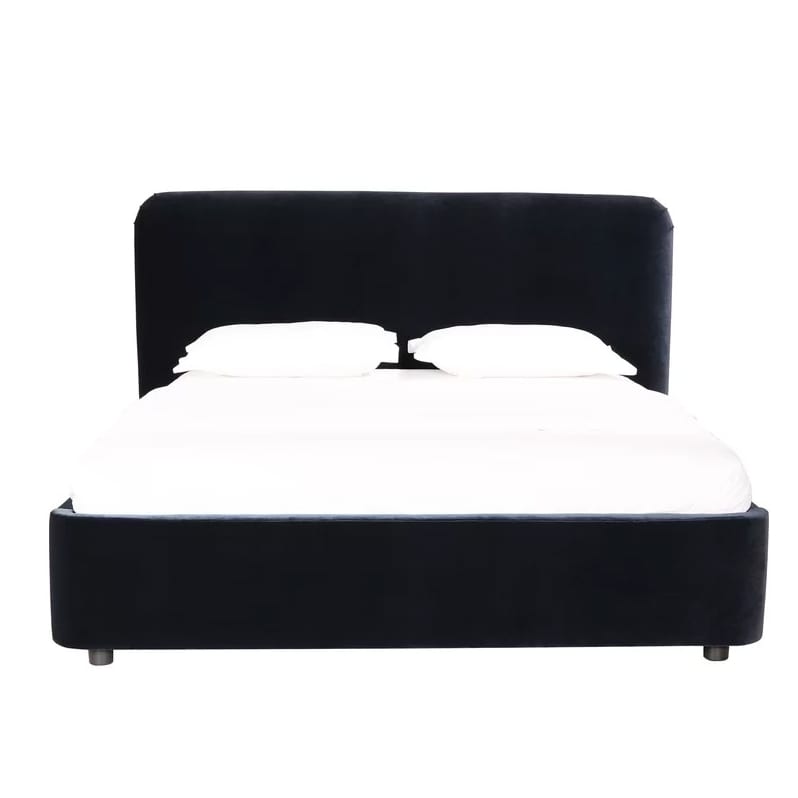 Moe's Home Collection
Samara Upholstered Bed
Helmick loves the Samara Bed by Moe's Home for both its style and practicality. "The curved lines make the design on-trend, but in a subtle enough way to be in style for years to come," she says. Plus, all those curved corners prevent ankle bonks that are common with platform style beds. The inky blue velvet also marries style and function. Helmick says the hue "complements all wood tones and most other colors," and the fabric is stain resistant, which is key for furniture that is used every day.
---
Classic four-poster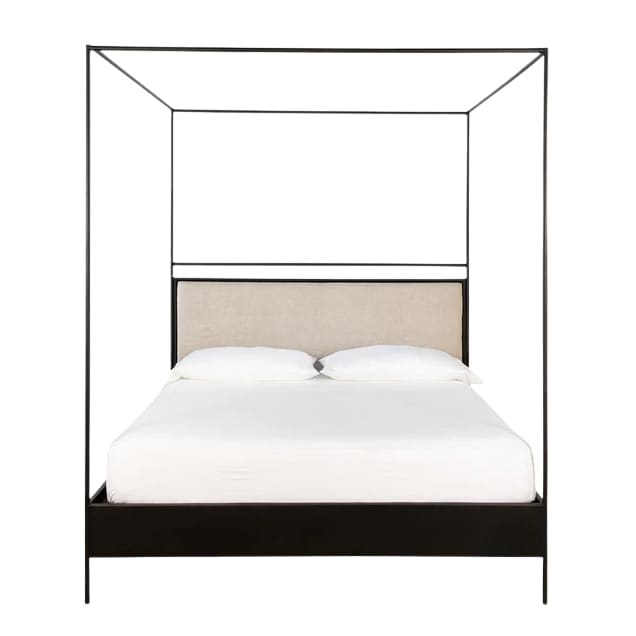 McGee & Co.
Sutherland Canopy Beds
Los Angeles-based interior stylist Scott Horne has made a name for himself styling beautiful beds, and says, "I've always admired a four poster canopy bed, but I have never had a bedroom large enough for one." If he had space, Horne says he'd opt for a classic iron canopy like the Sutherland bedsa slightly streamlined take on the traditional design.
---
Sensible storage beds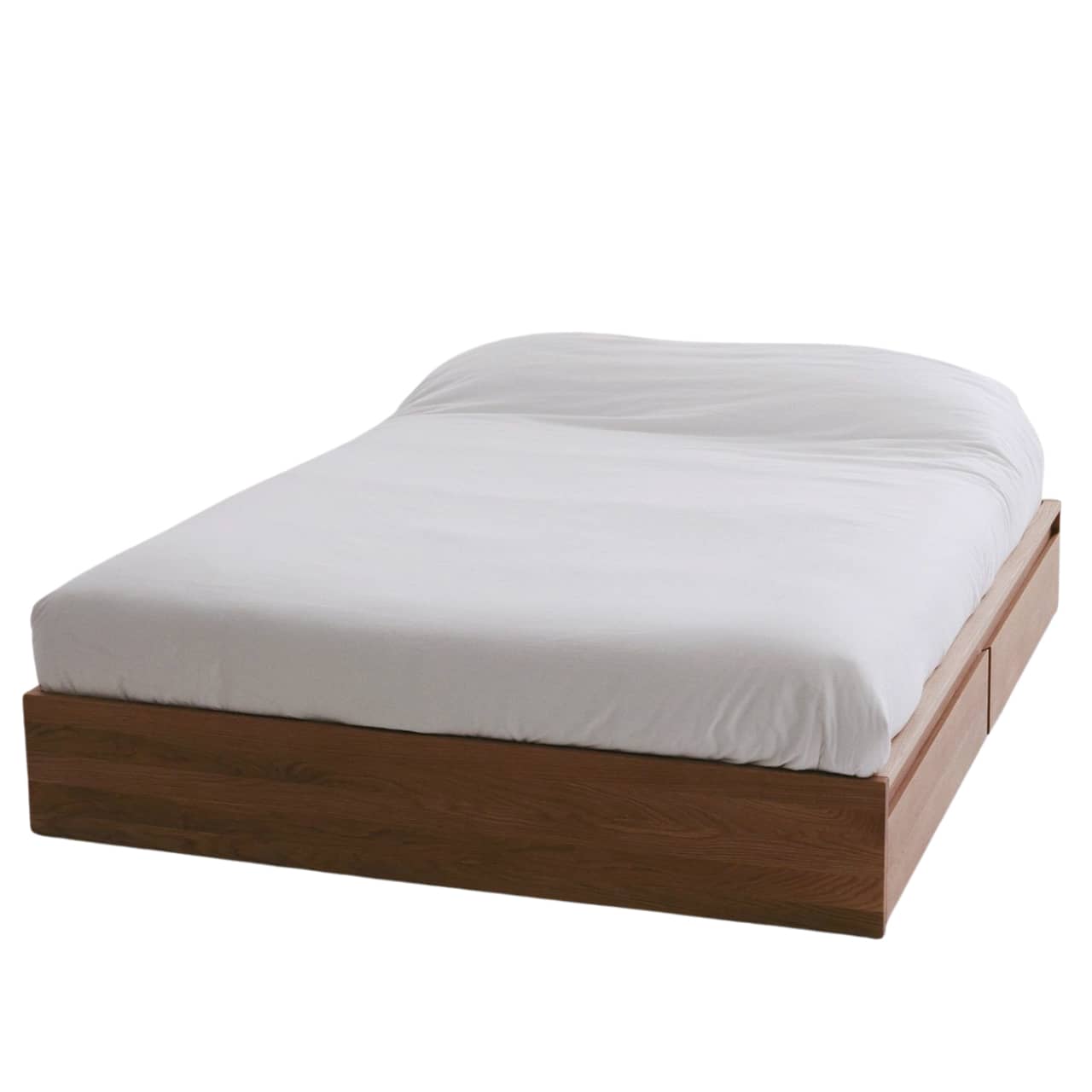 When a headboard isn't necessary, or even desired, Kalita likes the bed frames from Akron Street. "Their bed models are aesthetically restrained and well-crafted," she says of the solid white-oak frames. Kalita often opts for the company's Dris bed with optional drawers in rooms that require extra storage.
---
All-in-one solution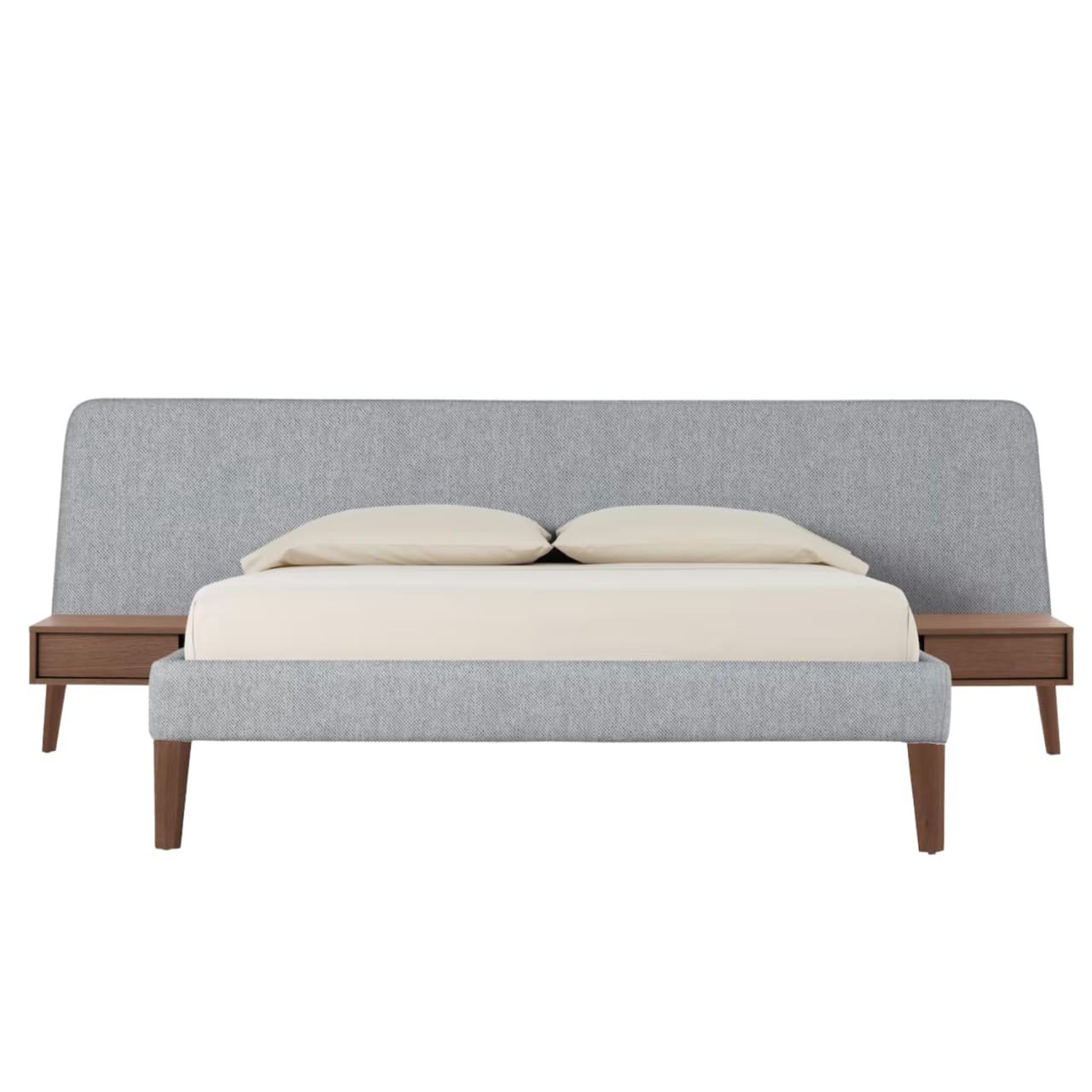 Jeffrey Bernett & Nicholas Dodziuk
Parallel Bed, Wide
The price is higher for this bed, but with built-in bedside tables you won't need much more to furnish your bedroom, notes Kalita, who likes the all-in-one "wide" style of the Parallel Bed. Unlike many upholstered beds, the fabric portions are designed as a slipcover, so you can remove them for cleaning—and you also have 30 fabrics and leathers to choose from.
---
Twist on the usual tufting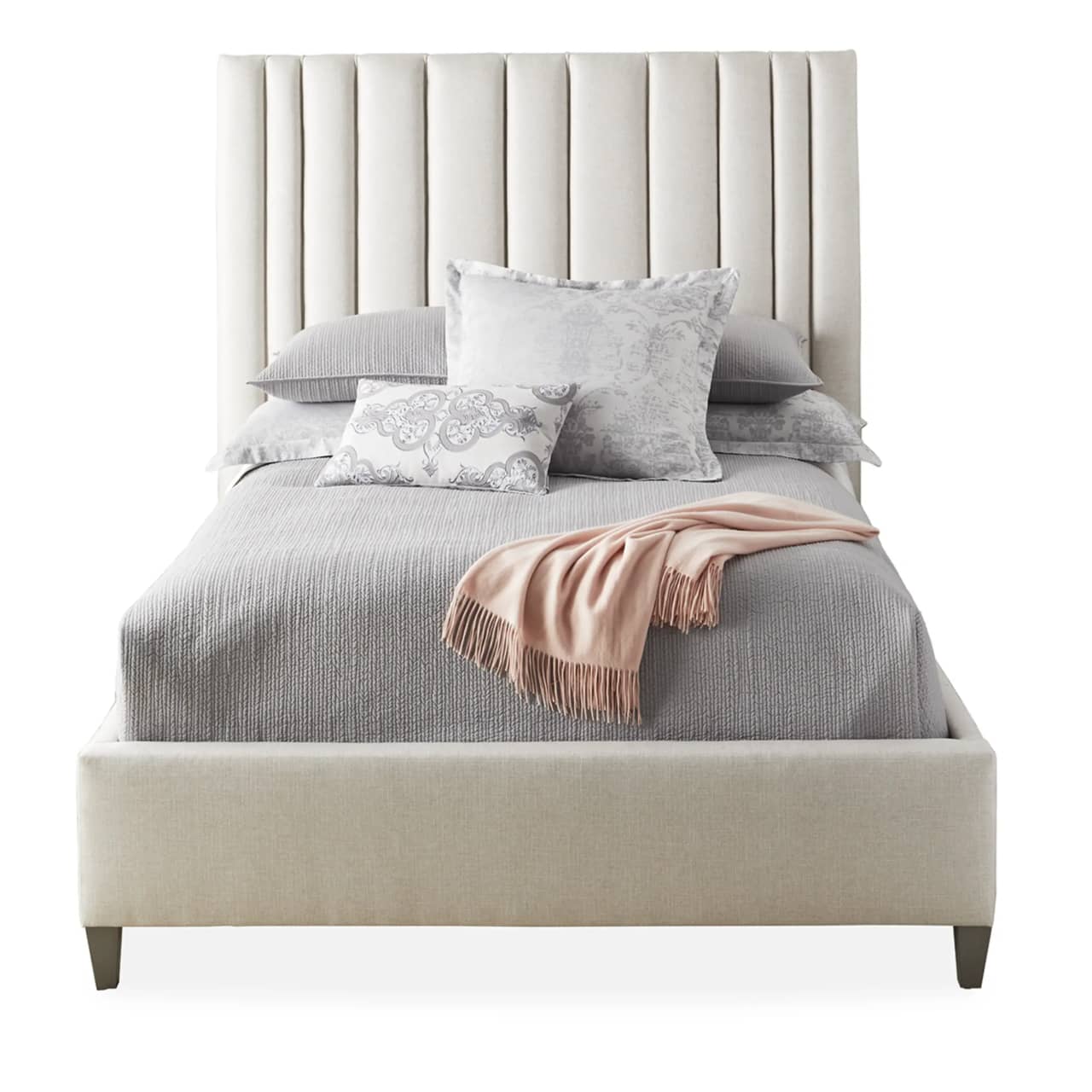 BERNHARDT
Modena Upholstered Bed (King)
"I used this bed for a project where we needed a bed to stand up to a beautiful hand-painted wallpaper," says an Idaho-based interior designer Maren Baker of the taller-than-average upholstered frame. It's a subtle yet fresh spin on channel tufting, Baker says. "I like how the panels vary in width, which makes it more interesting."
---
Basic bed upgrade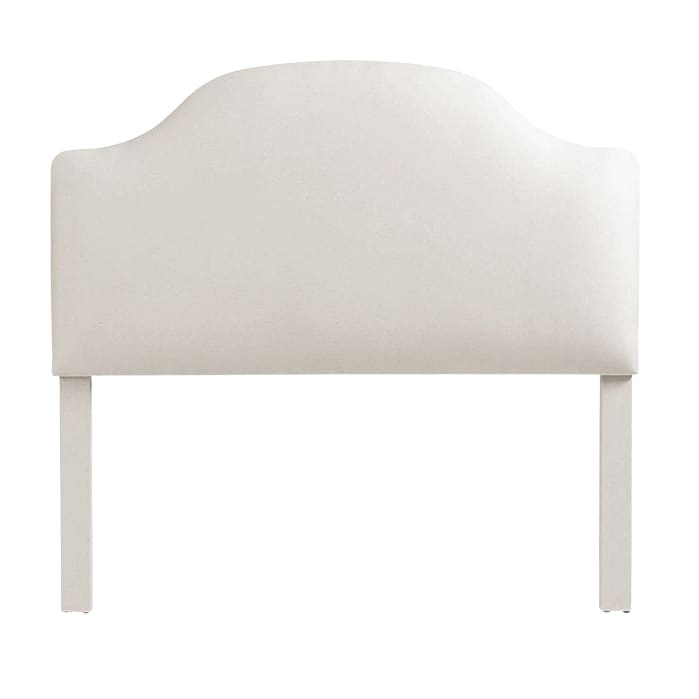 Ballard Designs
Camden Untufted Headboard
Dolkas offers an affordable alternative to fake the look of an upholstered bed frame: Source a matching headboard and bedskirt from Ballard Designs. "We have used this headboard and bedskirt in a few clients' guest rooms because it works with a standard metal frame, which many clients already have," says Dolkas. "With all the fun fabric options Ballard provides, a bed with personality can be had without footing the bill for something completely custom." Choose from a selection of more than 200 solids, stripes and prints.
The advice, recommendations or rankings expressed in this article are those of the Buy Side from the WSJ editorial team, and have not been reviewed or endorsed by our commercial partners.