When we moved into our new home, I have to admit that I was a bit intimidated by the open shelving in our kitchen. I had always had glass front cabinets, but these shelves presented a whole new styling challenge. While everything on the shelves needed to be functional, I also wanted it to look beautiful. It took me a few tries to come up with a "formula" for styling these shelves but I have finally cracked the code, so today I wanted to share with you the easiest way to style open kitchen shelves!
Be sure to scroll down to the bottom of the post to shop this look!
This post contains sponsored content and affiliate links. As always, I only promote and share products that I actually use and love.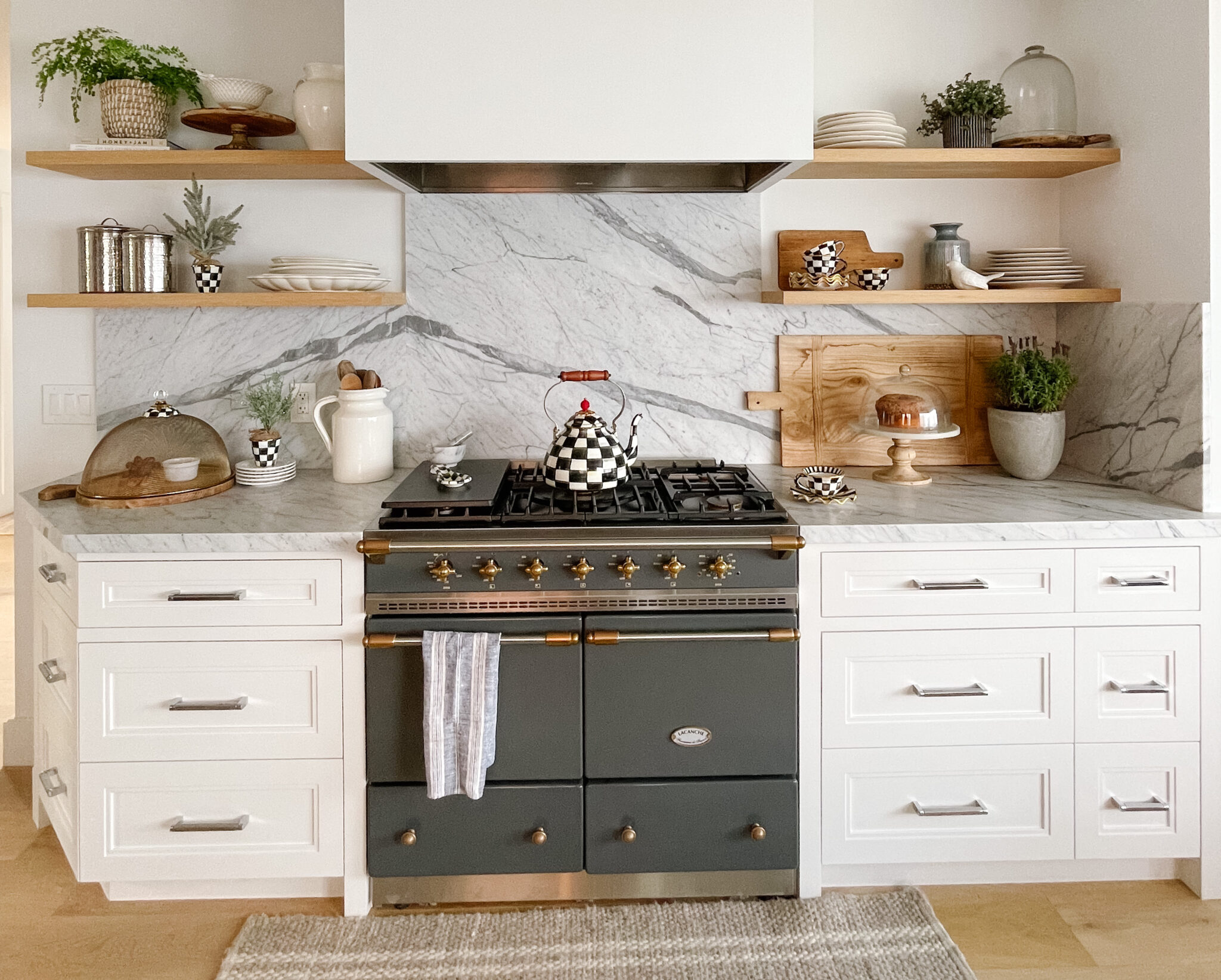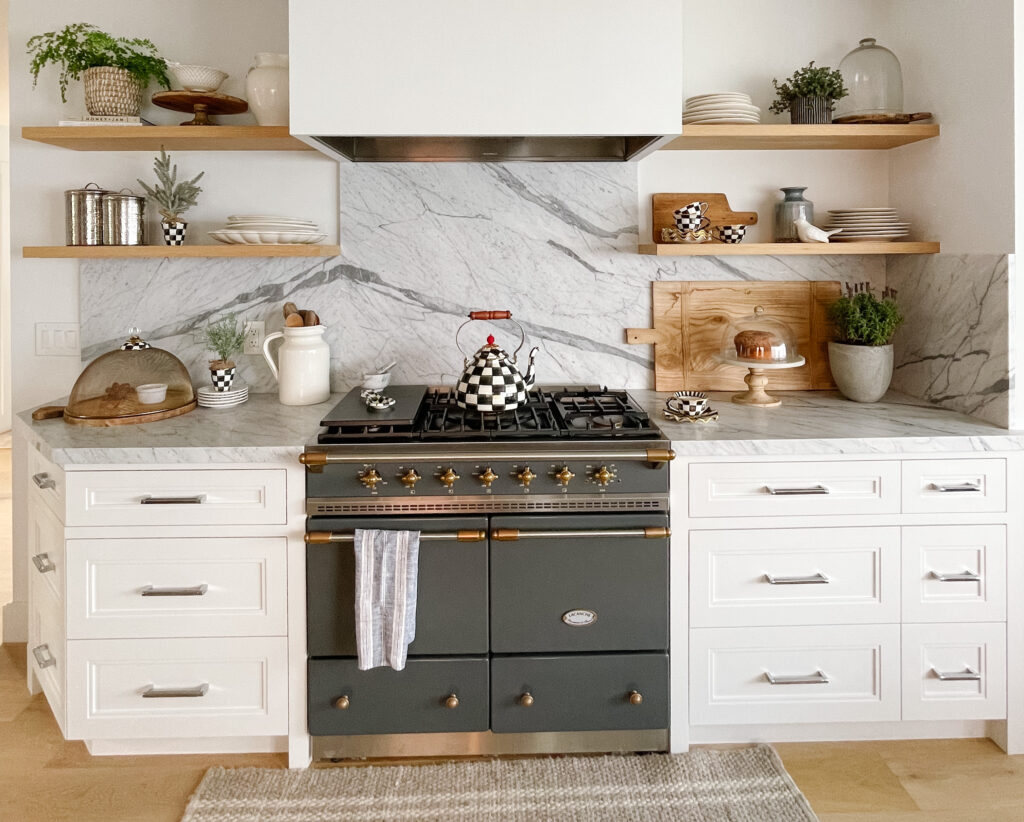 The most important element when styling open kitchen shelves is to create a balance with color, texture and perhaps a theme. This means using similar color elements, patterns and shapes in order to make everything look cohesive. In my kitchen, I used a variety of natural elements such as wood and plants, mixed with my dishware and functional items and then sprinkled in a few pieces from the MacKenzie-Childs Courtly Check Collection to add a touch of whimsy and create a theme.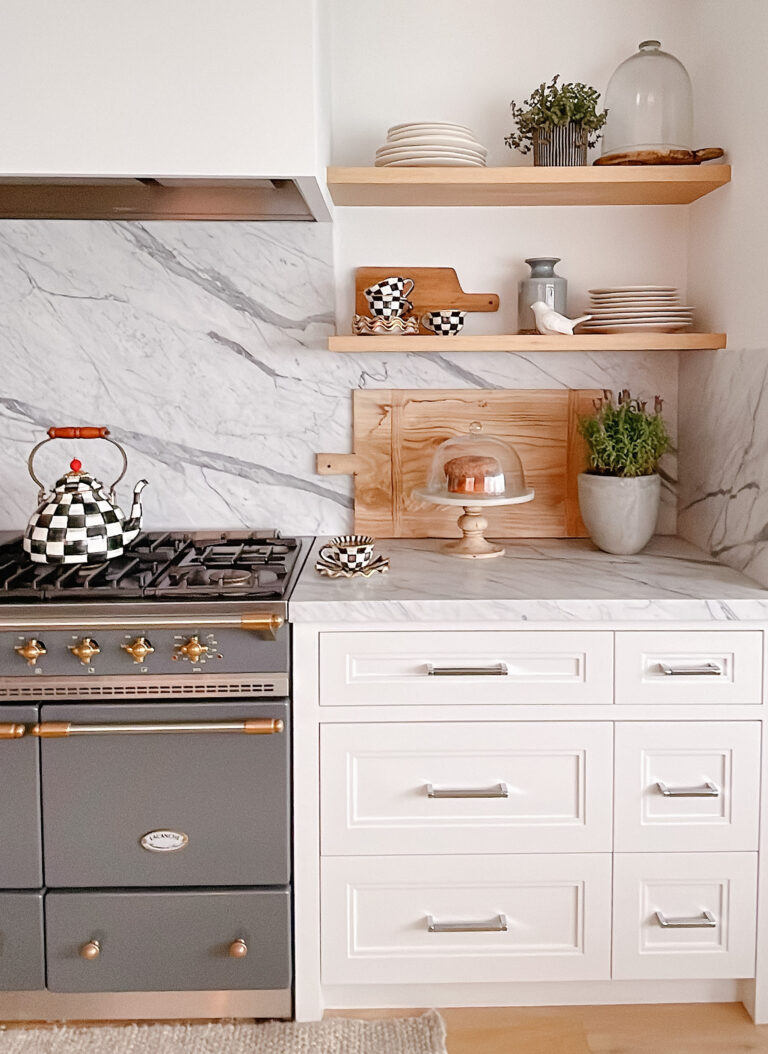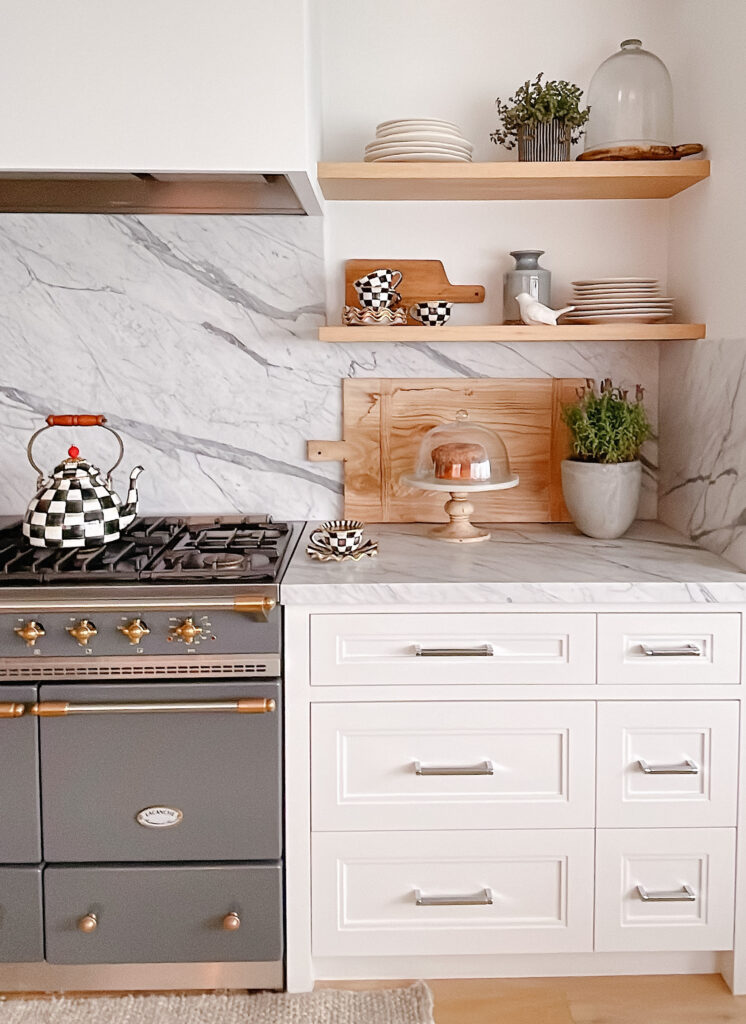 In the photo above you will see that the plates are separated on two shelves and placed diagonally, there are two glass cloches, also placed diagonally along with greenery to add texture and color. The MacKenzie Childs Courtly Check tea kettle and cups and saucers add a beautiful pattern to the look and bring a sense of fun into the kitchen. Not only are these pieces functional, I get so many comments on them and love how they look in my kitchen!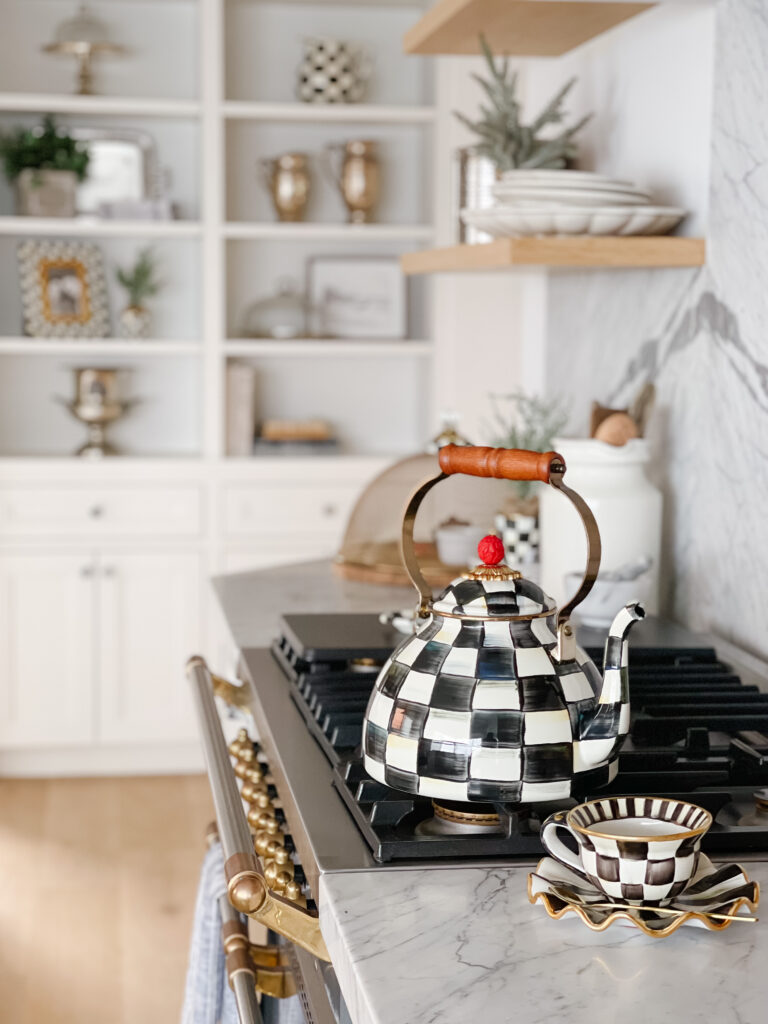 My daughters are serious tea drinkers so these were the perfect addition to my open kitchen shelves. How beautiful is this tea collection!? I'm obsessed!!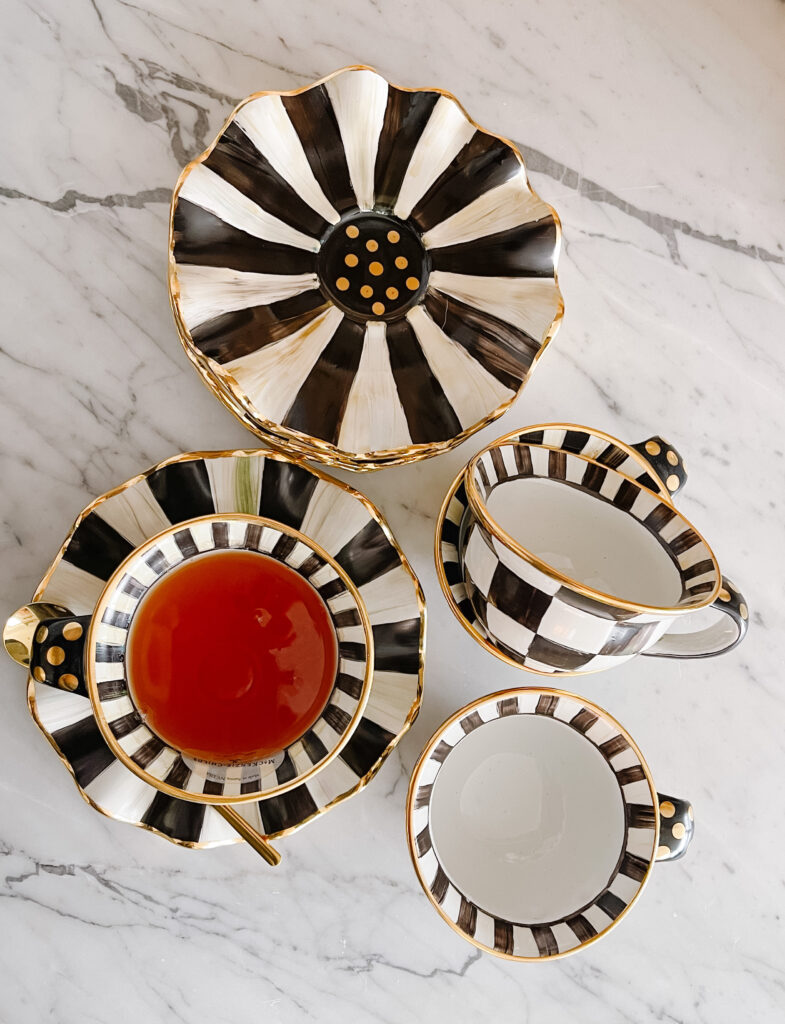 I used a similar formula on the other side of the range by incorporating greenery, white ceramic pitchers and a sprinkling of Courtly Check pieces to create a cohesive look.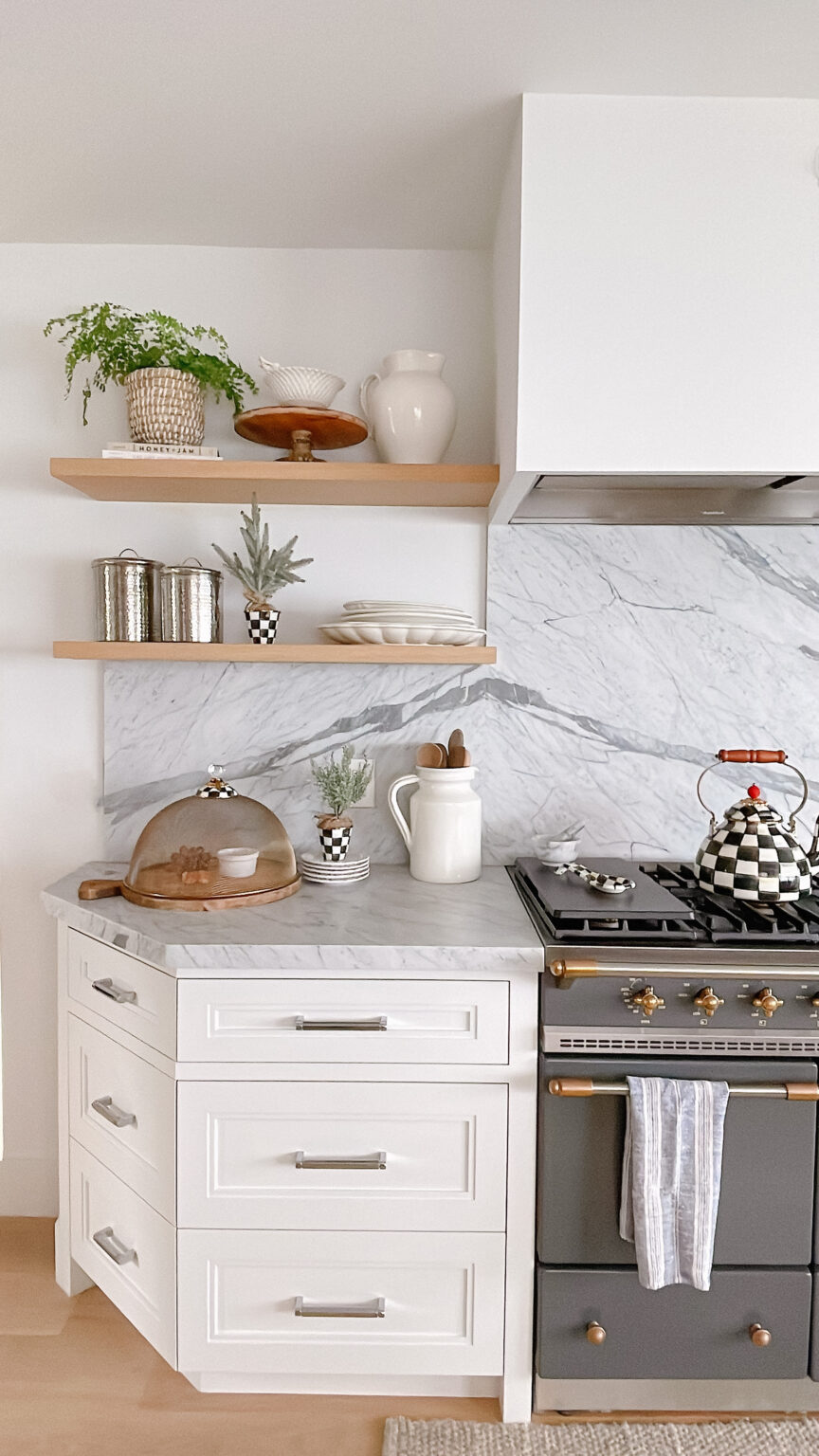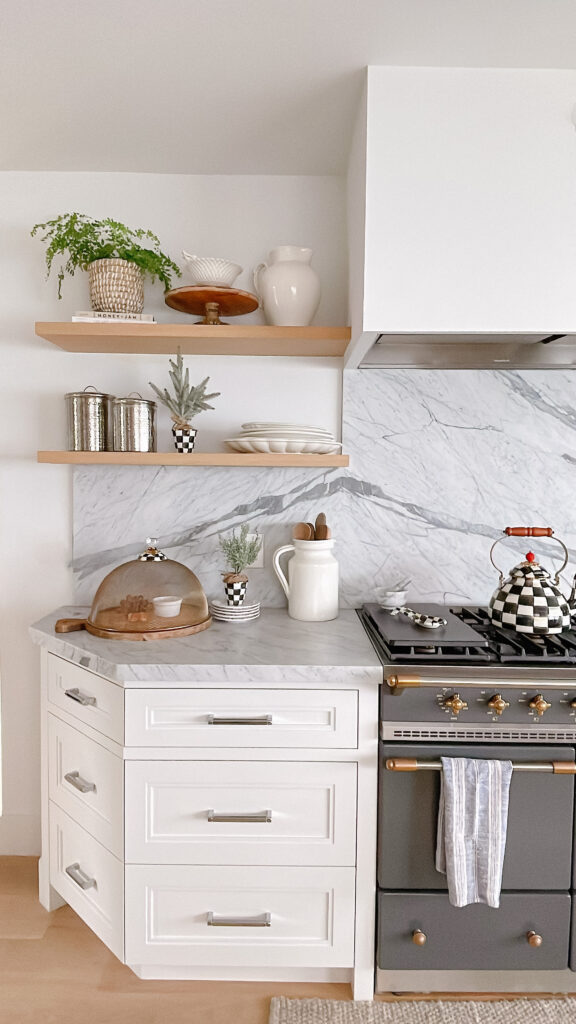 I fell in love with this mesh dome and adore how it looks on my countertop. I got the large size but it's also available in a smaller version. It is the perfect accent for entertaining and looks amazing on any cheese or appetizer board.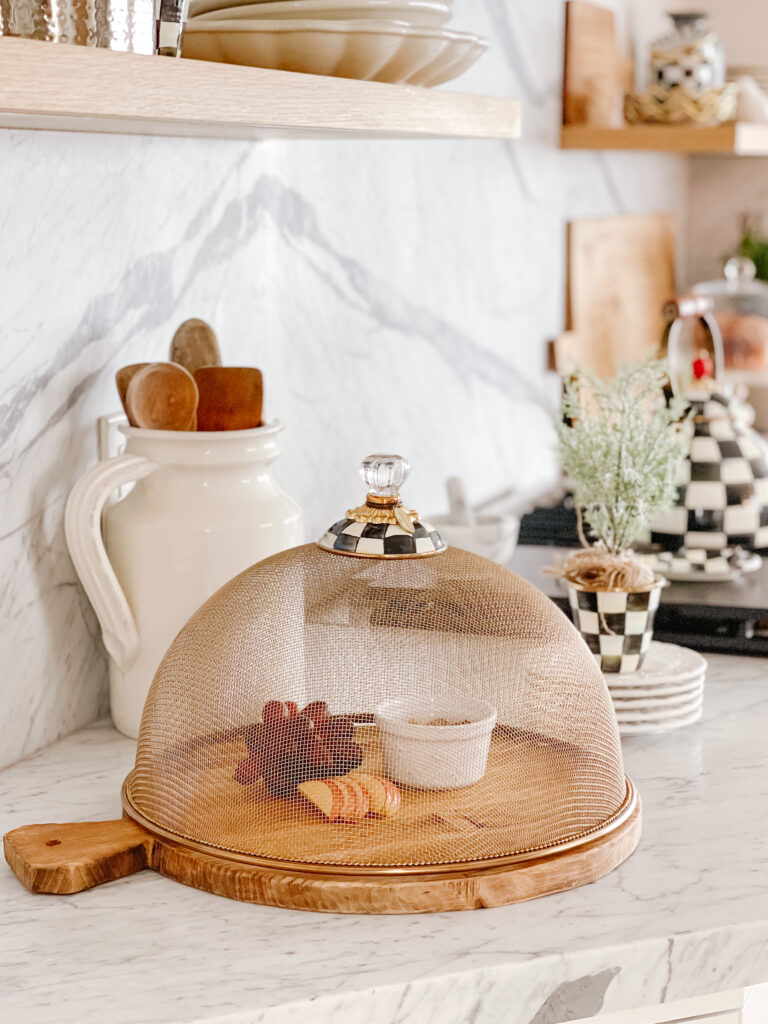 Just opposite the kitchen we have a built in shelf which is the perfect place to add some beautiful styling. I continued the theme from the kitchen and added a few of my favorite vintage silver pieces.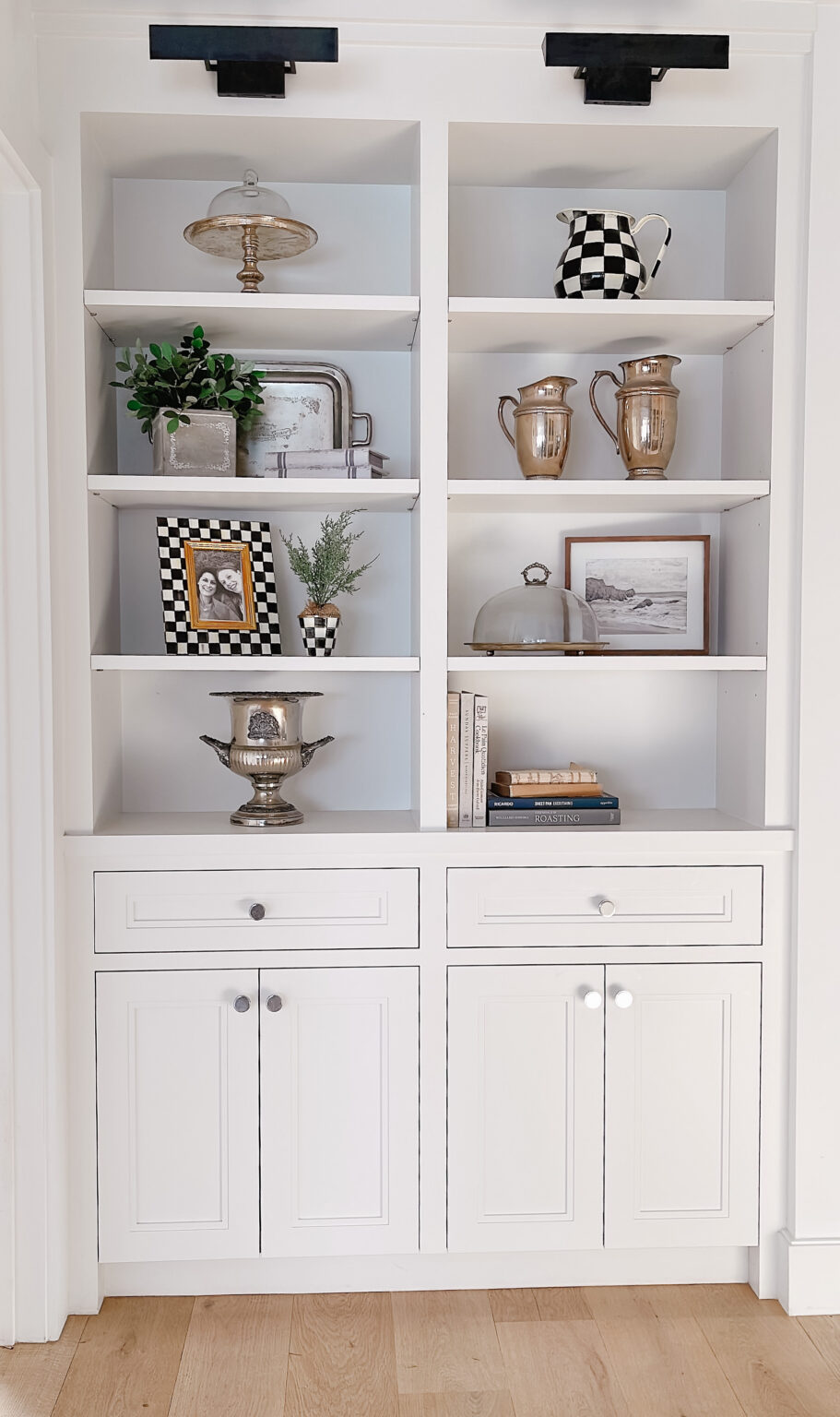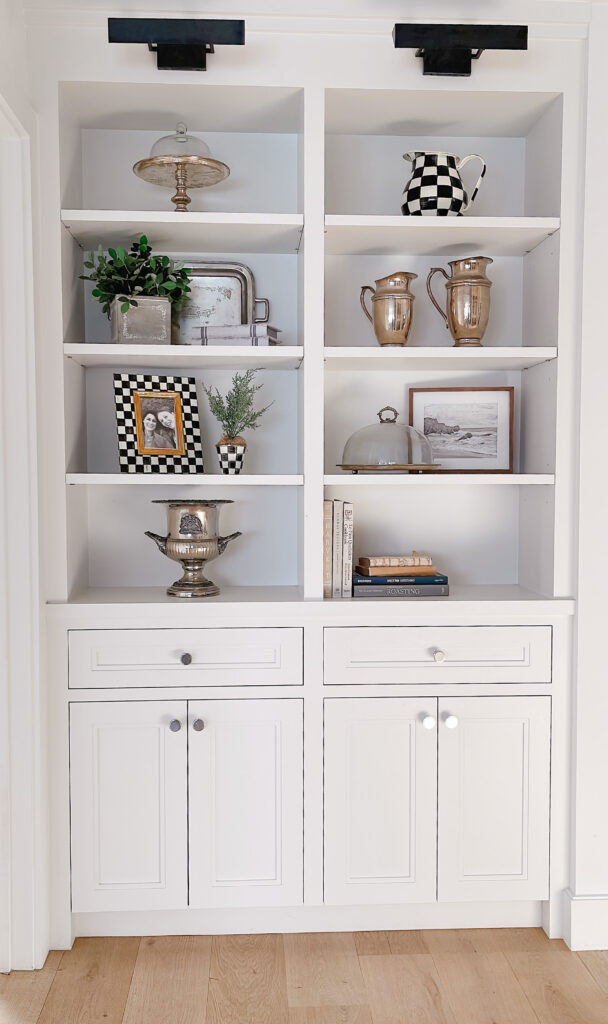 Using the same formula, I placed the silver pieces on the shelves at a diagonal and then added some of my favorite Courtly Check accents for that beautiful whimsical feel.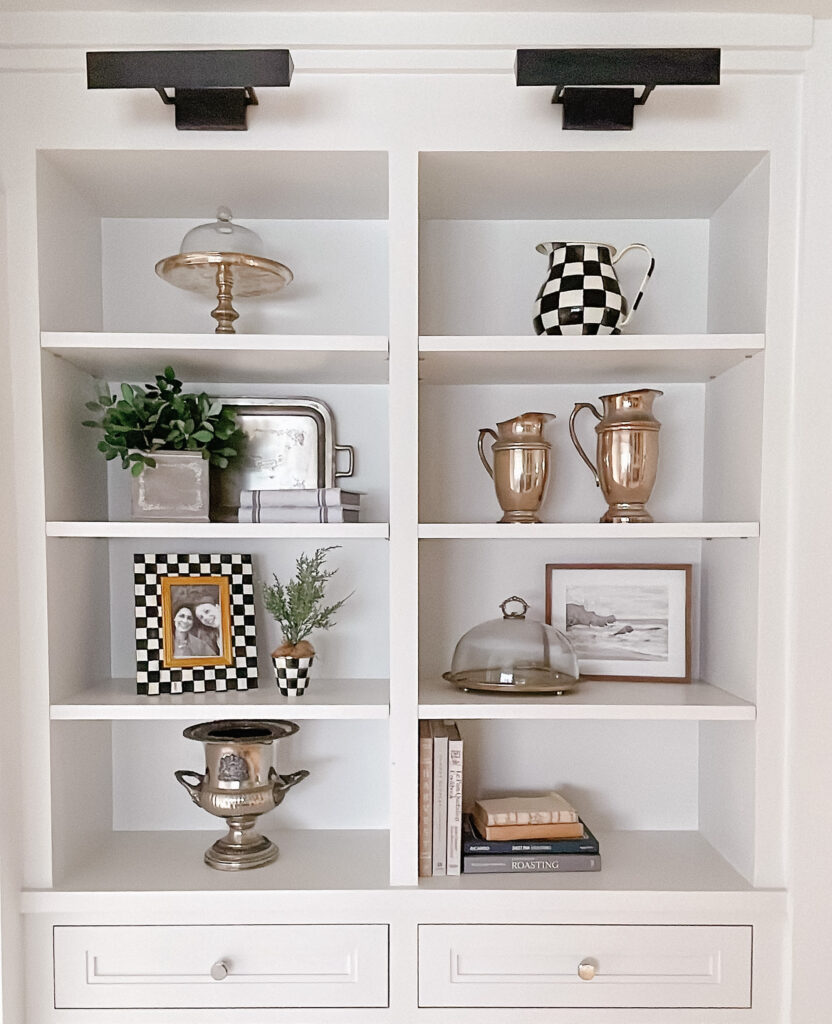 I especially love the MacKenzie-Childs frame next to this charming herb pot.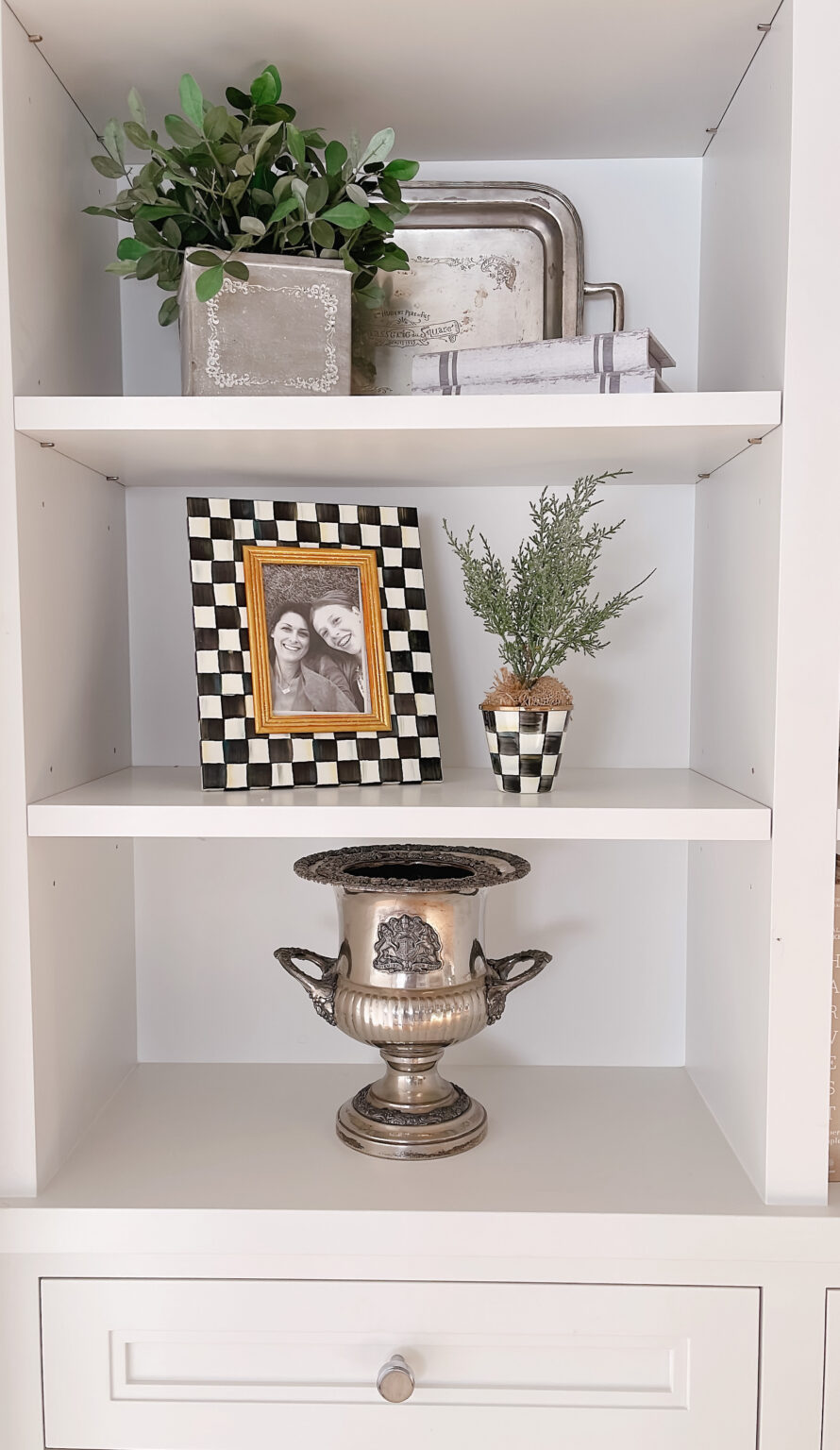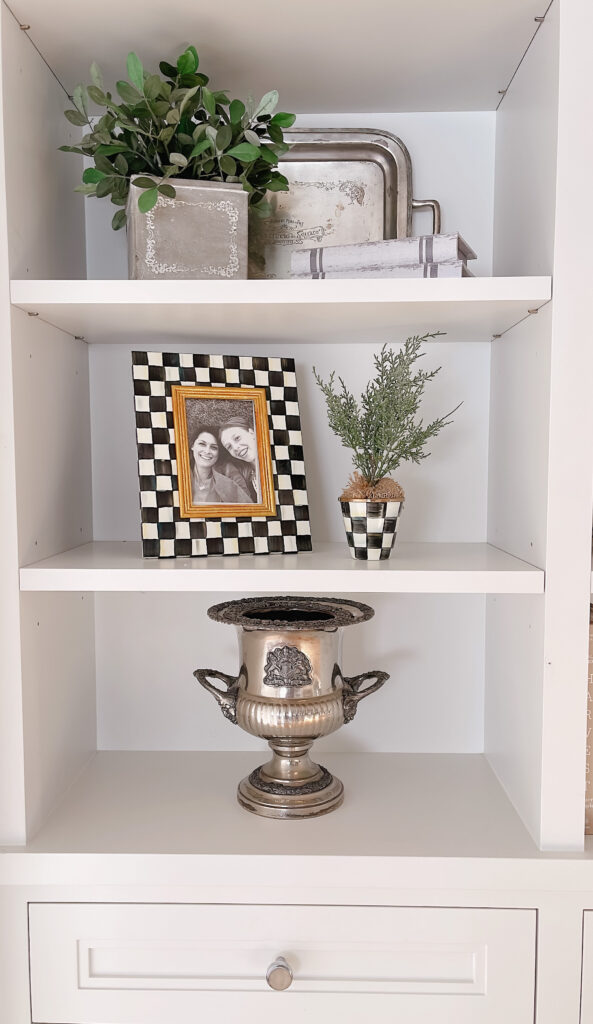 The easiest way to style open kitchen shelves is to match similar items on a diagonal to create balance, use greenery and natural elements to add texture and find a common theme, such as the MacKenzie-Childs Courtly Check Collection to create a cohesive look. Oh and if you have a matching dog…that always helps!