If you're looking for a stylish and sustainable way to organize your jewelry, look no further than our upcycled plate earrings and jewelry holder. This one-of-a-kind piece is created by repurposing a recycled plate and an old CD or DVD. The result is a modern and minimalist design that's both beautiful and functional. It makes a great addition to your dresser or can be wrapped and gifted as a useful handmade gift!
Upcycled Plate Earring Holder
The earring holder or jewelry stand is the perfect way to keep your earrings organized and tangle-free. It's also a great conversation starter and makes a unique gift for any jewelry lover in your life. Adding little holes around the CD makes it easy to hand your favorite dangly earrings without worrying about them getting caught in each other or snagged.
If you like this idea, you might also like a past craft we made using clay pots to make a jewelry stand. I have also made this simple 2-tier jewelry stand in the past that is perfect for a little girl or tween to use for their costume jewelry! If you like making your own boho jewelry and wearing something new each day, then this is a great project to help you keep all of your latest creations organized!
How Do I Make the Holes To Hang Earrings?
To make the holes to hold the earring I am using my soldering iron. I realized that many people might not have a soldering gun or soldering iron on hand. In that case, there are other ways to make holes in the jewelry holder. Below are some ideas that can be used for this project.
Hold a nail or the end of a thin screwdriver over a heat source (candle flame) then pierce the edge of the CD until it pops through the other side. You can also use a thick upholstery needle for this but may not have a large enough hole for some jewelry to hang.
Place the CD onto a piece of wood, and carefully tap a tack or small nail through it to create holes. Be careful with this method as it is very easy to splinter the CD and make it crack through the whole piece.
Use a heavy-duty hole punch to create small holes on the edges.
If you already have a scrapbook, you can use your Sizzix Tim Holt tool to punch holes through the CD.
Similar Projects: Framed Love Sign Made of Matches
How Do I Attach the Pieces So They Stay Secure?
I am using my standard hot glue for this as it works well to secure the items together. Ultimately, you want something that is super strong and will hold the piece securely with the weight of the jewelry sitting on top.
You can also use something like an E6000 glue or even Gorilla Glue for a permanent strong hold. Superglue works well but could be pricey to use in the amount needed for this craft. Whatever you choose, you want to have something that is going to be secure and not easily peeled off to degrade.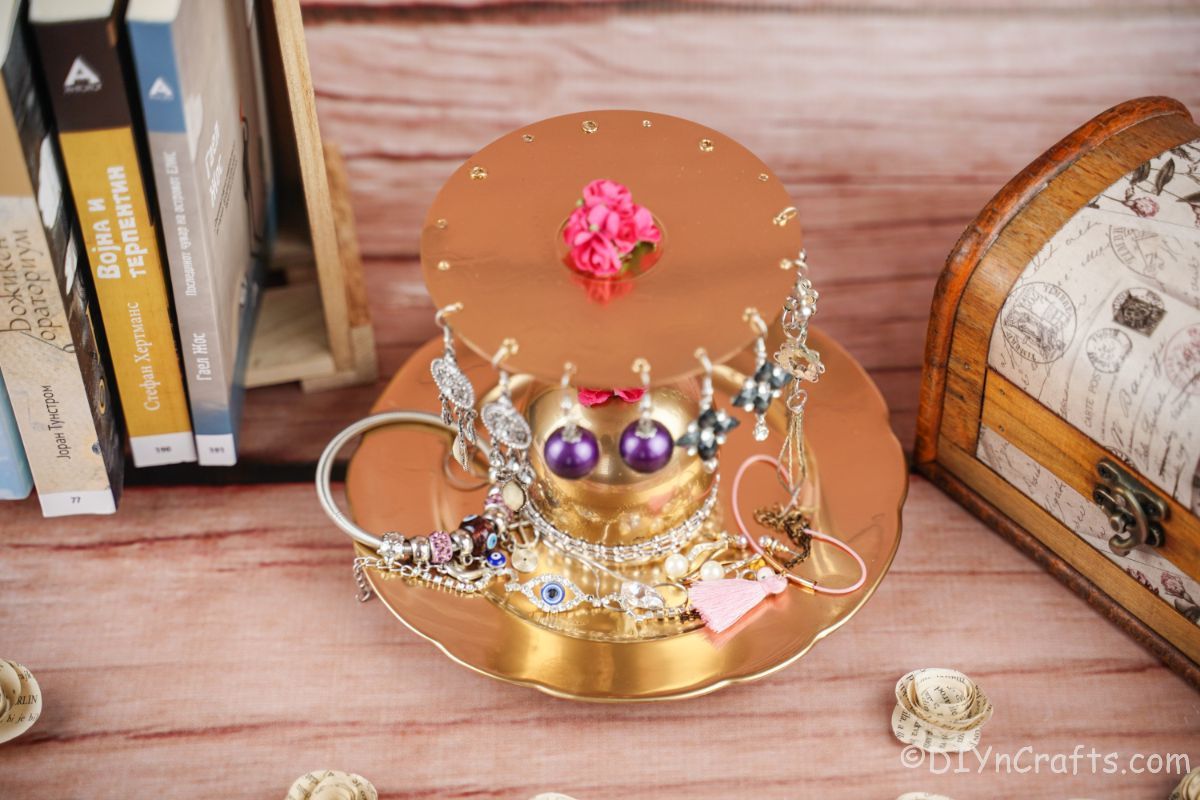 What Can I Use for The Middle Support?
The middle of the jewelry holder can be anything you have on hand. I am using an old wine glass, which I tend to have around, especially for crafts like this one. You can also use a dowel or other long piece of wood. A metal straw is also an option that could work here, but that depends upon what you will use the top tier for after it is made.
For a sturdier top level, you want something with a wider base like the glass. This distributes the weight more evenly and makes it less likely to break or fall over.
Similar Projects: DIY Car Pencil Holder From Emtpy Plastic Bottles
What Paint is Best For Covering a CD?
I like to use spray paint when I am covering the cd. I think it is the easiest way and the paint sticks well to the cd. Another option is to use acrylic paint. This kind of paint is applied using a paintbrush or foam brush. Any basic acrylic craft glue works for all three of the core pieces. Of course, since you are painting three different pieces with different finishes, spray paint is most likely the easiest and most affordable option to reach for when painting this.
What Other Ways Can I Customize My Earring Holder?
Once you have the general shape and design of the earring holder, the sky's the limit. Getting creative is a part of the process. This project, like most that I share, is a basic idea that you can create your own. Below are some ideas that might be fun on your own DIY jewelry stand.
Paint the stands in different colors to match your style or décor.
Wrap washi tape around the stem of the glass for an added pop of color.
Glue beads, sequins, or rhinestones in place of the beaded ribbon for more sparkle.
Add a small animal figurine to the top before painting to make it fun for a kid's bedroom.
Use glitter spray paint or brush glitter over the top after the paint dries for more sparkle.
Add a third-tier by using two plates with the CD on the top.
One of the best parts of this project is how easily you can make it to fit anyone and their own personal style. Add a few unique touches and you have a perfect birthday gift for any lady in your life!
Supplies Needed
Similar Projects: Beautiful Fall Leaf Boutonniere Wedding Accessory
How to Make A DIY Jewelry Stand
Gather all of your supplies and begin assembling your stand on a clean workspace. If you will be using spray paint, go ahead and lay out a paper or plastic cover for any table. I also recommend painting outside or in a well-ventilated space for safety.
Use the hot glue to attach the glass to the top of your plate. Place it rim side down so it is upside down on the plate.
While the glue dries, heat your soldering iron and carefully add holes all around the edge of the CD. You want to make sure you add these in even numbers so there are always 2 holes, one for each earring in a set. I added them around 1″ apart.
Next, glue the CD onto the base of the upside-down wine glass. Hold in place to seal well around the edges.
Now, you will paint the entire stand using 1 to 2 coats of spray paint depending upon the color and design on the existing plate.
Once everything is evenly coated, set it aside for at least 30 minutes up to 1 hour to dry completely.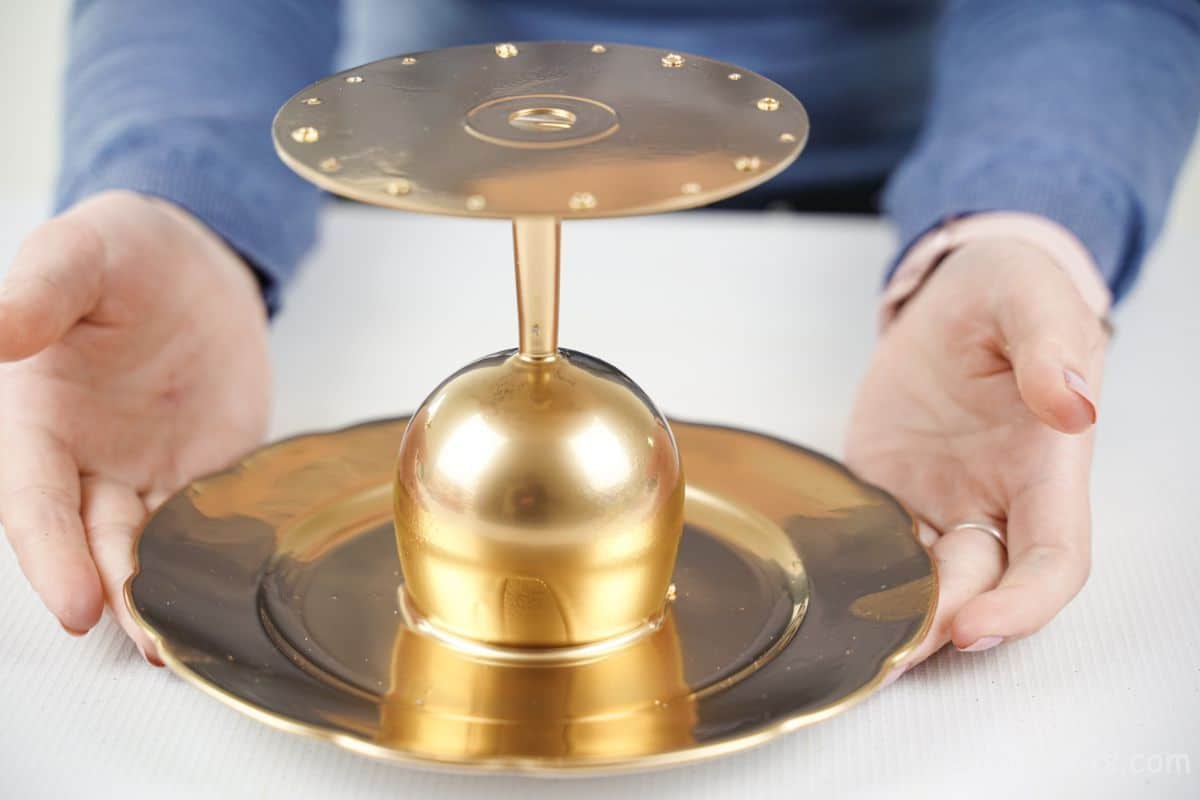 Once the stand is completely dry and not tacky, you can decorate it with a few embellishments. I added a length of beaded ribbon around the base of the wine glass where it was glued in place on the plate.
Then add a few miniature fake flowers to the top center of the CD.
And finally, I added a few of those same flowers around the base of the wine glass cup as an accent.
Once you are happy with the look, you can start using it for your own jewelry.
Or you can wrap it as a gift to a friend!
Similar Projects: Beautiful Craft Paper Lotus Flower Decoration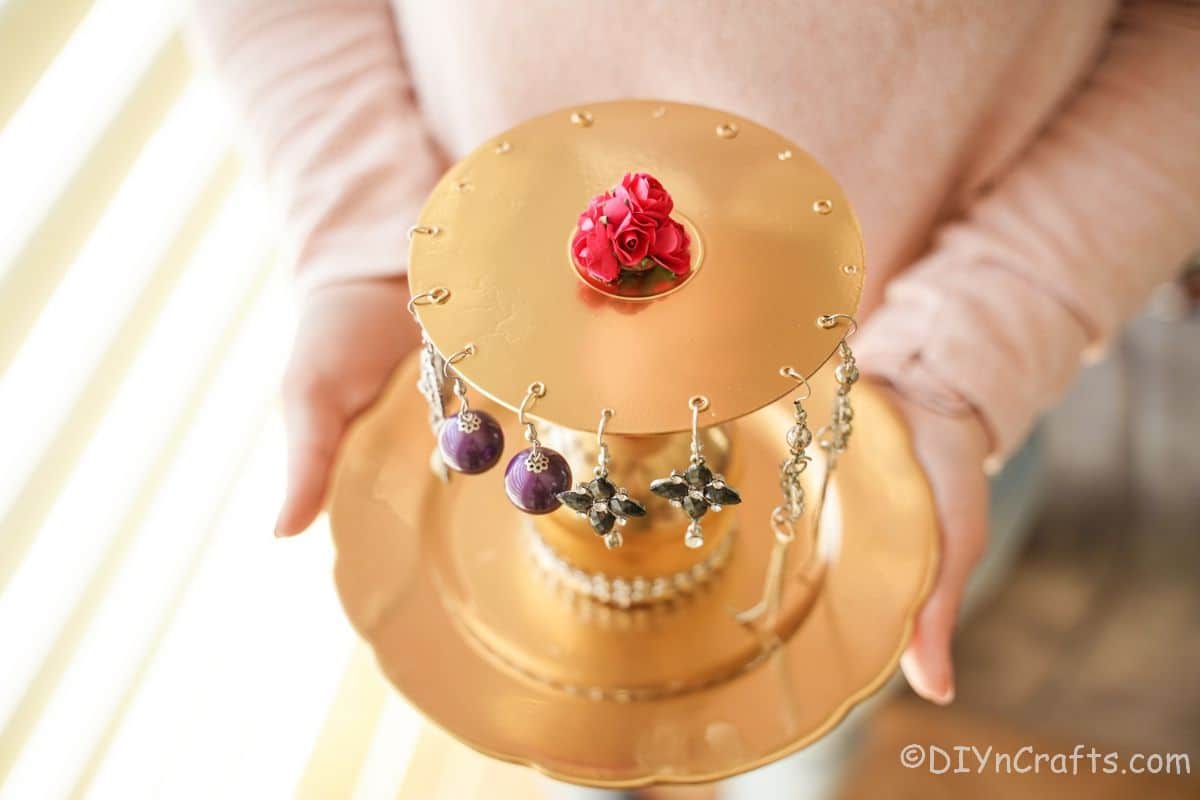 More Easy Upcycled Crafts
I love making fun crafts out of items I already have on hand. Below are a few more ideas that make use of old CDs and similar items to create a fun new craft. Make sure that you bookmark these ideas, print them out, or pin the tutorial to a crafting Pinterest board to make soon!
Yields: 1
Combine an old CD or DVD with a glass and plate to create your own custom earring and jewelry holder! The perfect gift!
Prep Time
5 minutes
Active Time
25 minutes
Additional Time
1 hour
Total Time
1 hour 30 minutes
Difficulties
easy
Notes
This was made with a 10″ dinner plate and standard sized wine glass and CD.
Recommended Products
As an Amazon Associate and member of other affiliate programs, I earn from qualifying purchases.
Finished Project Gallery
A taller glass in the center would allow you to add s-hooks in the holes and hang necklaces.
I love this idea as a stand at the entryway to hold keys and wallets instead of jewelry!