Looking for a unique way to display your family photos? Check out our cutting board craft picture "frame"! This one-of-a-kind frame is made from a real cutting board and can be personalized with your family name, favorite saying, or special message. It's the perfect way to show off your cherished memories and make a unique statement in your home.
Cutting Board Craft Picture "Frame"
I love a decorative frame that is more than just a square or rectangle that hangs on the wall. I love to see my family photos around the house and I love to be crafty. When I mix these things together, it creates this beautiful upcycled cutting board craft. It is so easy to create the frame of your dreams and add a touch of love to your home.
In addition to displaying this craft around your own home, it makes a lovely gift idea for friends and family. And in the same note, if you have old frames you aren't using, check out this list of ways to repurpose frames. So many fun ways to put things to use when upcycling!
What Can I Use To Hang the Pictures?
I am using clothespins to hold my picture in place. I have seen similar designs in stores that use clips. You can even use paper clips or binder clips.
If you are using something other than clothespins, you want to be careful with how it holds the picture. If it makes an indent or mark on the photo, be sure to use a photocopy or something similar when using the frame. You wouldn't want to ruin the only copy you have of the photo.
Where Can I Find Cheap Cutting Boards For Crafting?
The dollar store is a great place to find a cutting board. I have also seen them at yard sales and thrift stores. I love finding the ones used because they have so much character to them. It's a perfect way to give them new life without having to worry about any germs hiding on the surfaces.
Similar Projects: 15 Brilliant Ways to Repurpose Old Bed Springs [Trash to Treasure]
If you are someone who likes to cook, you may already have one on hand that you can use for this project. And you can always ask friends and family if they have anything that is cracked or stained that you could use.
How Can I Make this Picture Holder Unique?
There are a number of ways you can make this project unique. As always, this is one of those projects that we are making as a guide but it doesn't have to be exact. I love using random left over craft supplies for projects like this and have found them to be unique every time. Below are some ideas you can consider for your version.
One way is to paint the cutting board. You can paint or stain it a solid color, or mix them to create a pattern or marbled look. Even distressing the wood would look great, especially if you have a farmhouse or rustic decor.
Use stencils or stamps to add a message below the images on the board.
You can also use different ribbons, beads, yarn, or other embellishments to give it a seasonal look or a new style.
Add hooks or ribbons on the bottom for hanging more images or even use as a key holder by a door.
Similar Projects: How To Make This DIY Coffee Candle
There are many ways to customize this cutting board craft to make it unique to you and your home style. Just have fun with it and use the supplies you already have on hand.
Supplies Needed
How to Make a Picture Frame From a Cutting Board
Clean the cutting board before you begin. This is especially important if you are using one that has already been used, or that you picked up at a garage sale. Then, if you want to add paint or stain, I recommend you strip any existing stain and sand it. Stain or paint as desired following directions on the particular stain.
Let your cutting board dry completely then you will start adding the burlap ribbon around the top. I put this just below where the neck begins on the top. Glue this into place all around the board, or just on the front and edges. Do what you prefer and with a style you like.
Next, cut another length of that ribbon and fold it in half. Fold and glue this into place on top of the ribbon already on the board to create a bow.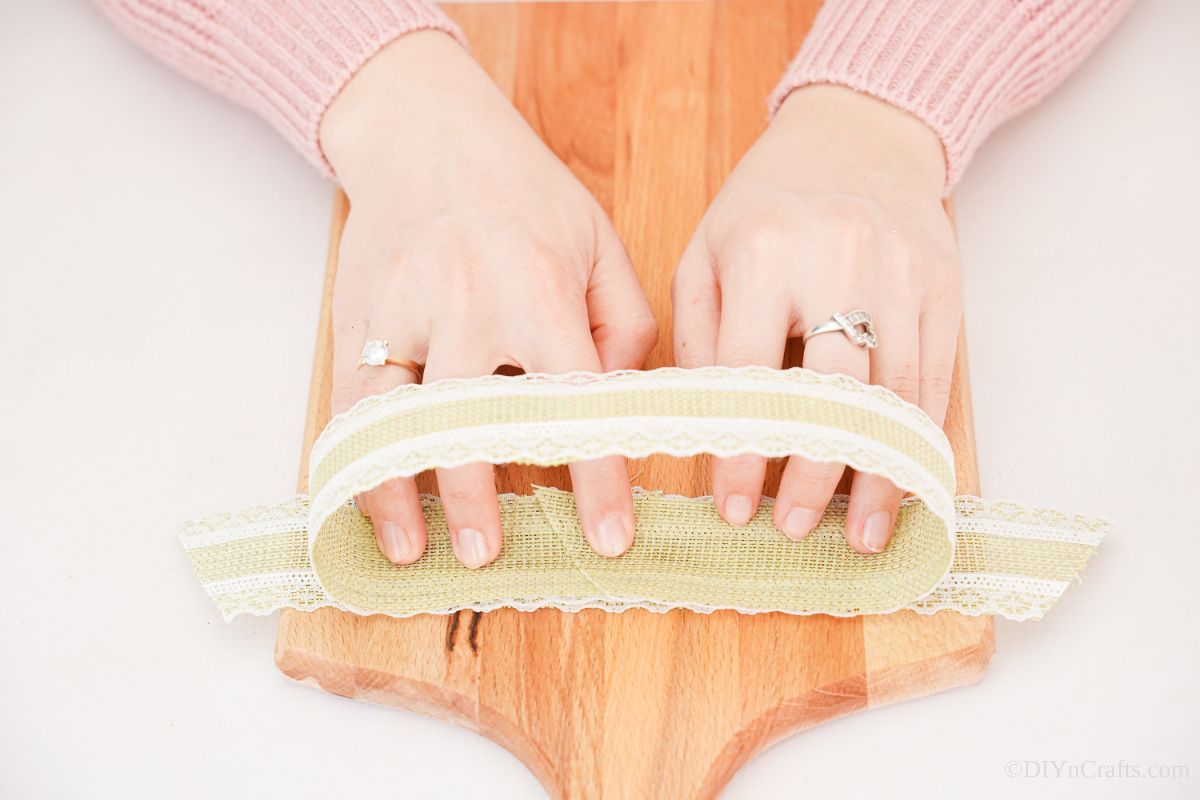 You will then cut out some smaller ribbons (I used brown), and loop them into smaller bows. Glue this to the center of the larger bow. You could also use ready-made bows here if you have them, or even an artificial flower.
The last thing you will do is attach the clothespins or clips just below the ribbon to hold the images. Glue these into place, or nail them into place depending upon what you decide to use.
Add your picture(s) and hang it on the wall. This is a great way to add a family photo or snapshot in the kitchen or dining room while keeping to the theme.
More Easy Photo Storage Ideas
If you have a ton of pictures to display but don't know how to make them fit into your home, there are some great ideas below. I love the idea of ​​printing off snapshots and turning them into fun decor ideas. Many of these ideas can be used for numerous occasions, as gifts, or just as a fun crafting project. Make sure that you bookmark the ideas, print out the tutorials, or pin them to Pinterest to make it soon.
Similar Projects: DIY Paper Unicorn Basket
Yields: 1
This adorable cutting board craft creates a picture "frame" that is ideal for changing out images regularly! A super cute and affordable gift craft!
Active Time
30 minutes
Total Time
30 minutes
Difficulties
easy
Estimated Cost
$1.00
Instructions
If desired, stain, paint, or seal the cutting board. Follow directions on stain or sealant and let it dry completely.
Now, wrap the burlap lace ribbon around the top just below the neck of the cutting board, gluing it into place.
Then, cut another piece of the same ribbon, and fold it in half. Place the open ends on top of the first piece of ribbon on the board, and glue it into place. Then, glue the center in place to create a bow.
Now, cut and wrap the brown ribbon into a smaller bow with three loops.
Glue this to the center of the first ribbon.
Next, glue the clothespins just below the ribbon to hold your images as desired.
Notes
This can be made with any size cutting board.
Similar Projects: DIY Royal Diaper Cake Castle Baby Shower Gift (Video)
Recommended Products
As an Amazon Associate and member of other affiliate programs, I earn from qualifying purchases.